The NEW Port Towns Farmers Market
Saturdays from 10:00-1:00 at
5801 Emerson Street, Bladensburg, Md.
June 11 through October 3, 2015
The new Port Towns Farmers Market is off and running!
Come by on Saturday mornings from 10-1 to meet local farmers, support local food businesses, get your fresh, local produce and tasty foods, hear live music, and fun for kids.
Come to your new neighborhood farmers market at the corner of Emerson Street and 58th Avenue in Bladensburg, near the Port Towns Elementary School. Learn how to prepare and cook fresh produce through cooking demonstrations.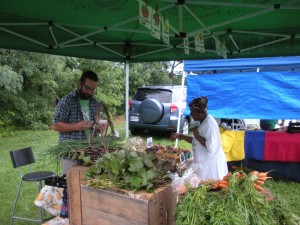 Market vendors take WIC and Farmers Market Fruit and Vegetable Checks and customers can use SNAP/EBT to buy SNAP-eligible foods. Get valuable coupons for future purchases at the market and find out how to cooking healthy can be affordable. This market, your market will be open each Saturday from 10-1 from July 11 to October 3.
Help Us Promote the Market!
The key to the success of the Port Towns Farmers Market will be getting customers there every week. Farmers and other vendors will only continue to bring their food to the Port Towns Farmers Market if they make sales.
Support the market by telling others! Promote it via Facebook, Twitter, Instagram and email, and through other community outlets and networks.  Send an email to your friends, link to the market Facebook page, post on your local list serves, send someone our flyer, and tell family and friends about this great new community resource!

> Download our flyer in English or Spanish
> Link to our Facebook page: www.facebook.com/PTFarmersMarket
> Sign up for the market's weekly newsletter
Questions?
Contact market manager Amanda West at amanda@ecocityfarms.org.
Help us spread the word!  Click here to download flyers in English and Spanish.
Introducing our 2015 Market Vendors:
Montoya's Farm
Colonial Beach, VA
Conventionally grown fruits and vegetables
El Sol/Candy's Pupusas
Silver Spring, MD
Pupusas, taquitos, hibiscus tea, fruit salad drink
Nancia's Antojitos
Hyattsville, MD
Tostadas, tamales, horchata, grilled corn
Vegetales R.L.
Adelphi, MD
Central American squashes, greens, herbs
Yum Buns
Edmonston, MD
Traditional and fusion Asian steamed buns
Marble Arch Gardens
Alexandria, VA
Holistic herbal products and wellness and nutritional coaching
Artimiya
Silver Spring, MD
Handmade Colombian jewelry
ECO City  Farms
Bladensburg and Edmonston, MD
Naturally and sustainably grown vegetables; fruits and eggs from regional farmers.
The Port Towns Farmers Market is a project of ECO City Farms.