Pros Who Prioritize Reuse

We want to thank Spectrum Design + Build for their commitment to salvage and donation!
Spectrum is a boutique, hands-on, design-and-build remodeling company specializing in high-craft and highest-quality renovations and remodels. Instead of wrecking and dumping, they carefully remove reusable building materials from their remodeling projects to donate to Community Forklift. Over the years, they've sent us beautiful kitchen cabinets, gently-used appliances, millwork, plumbing, windows, doors, and more.
Their green building practices don't stop there – they recycle their construction debris, use eco-certified products, and partner with environmentally-friendly companies! As a member of the Metro DC chapter of the National Association of the Remodeling Industry (NARI), the company is also committed to ongoing education and professional ethics.
By donating great materials, Spectrum helps Community Forklift create green jobs and training opportunities, reduce waste and pollution, and provide free supplies to nonprofits and neighbors in need. A big thank you to Spectrum and owner Keith Vaughan!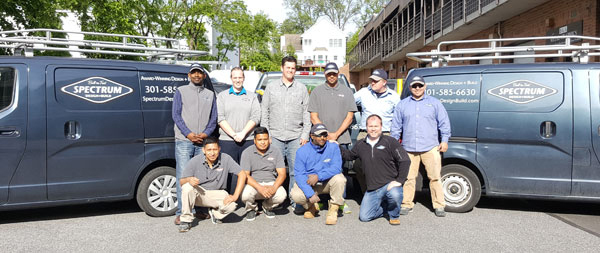 ***
Community Forklift could not exist without our donors. By choosing us instead of the landfill, donors are helping lift up local communities.
If you're planning a renovation…
Please ask your contractor about donating your reusable leftovers, or reach out yourself! We're here to help green up your project. The quickest way to request a free donation pickup is to visit CommunityForklift.org/pickup. You can also contact our Donations Team at Donations@CommunityForklift.org, or call 301-985-5180 (ex. 202) for more information.
***
Community Forklift turns the construction waste stream into a resource stream for communities in the DC region – by keeping perfectly good items out of the landfill, preserving historical materials, providing low-cost building supplies, and creating local green jobs.