Christmas in April 2019
We're excited to share that our partner, Christmas in April of Prince George's County, repaired 80 homes with the help of 3,200 volunteers this past April – making it its 31st consecutive year of successfully helping neighbors in need!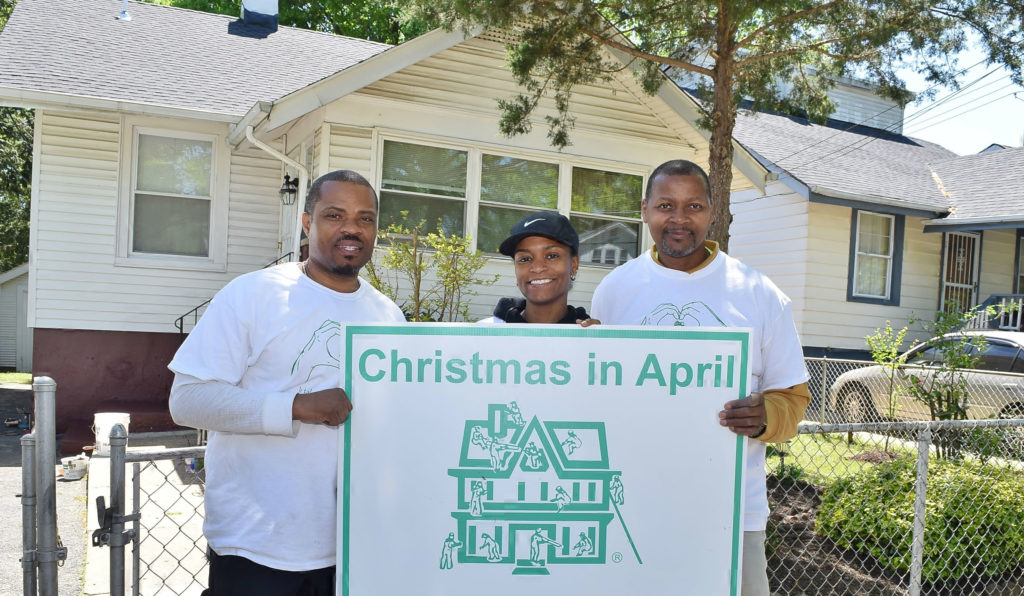 Christmas in April is a volunteer organization that does FREE repairs for low-income and/or physically challenged senior citizens living in Prince George's County. Every year, volunteers get together on the last Saturday in April to partake in a one-day repair effort. These repairs help individuals live independently in their homes and are essential to our county because they ultimately contribute to preserving and revitalizing communities.
Mrs. D from Capitol Heights, MD, was one of the 80 homeowners that benefited from repairs this year. Here she stands pleased in her newly renovated porch!

The porch ceiling was dangerously sagging and loose.

After repairs, Mrs. D has a solidly safe roof to keep the rain out.

The walkway was cracked and posed a tripping hazard for Mrs. D and her guests.

Volunteers replaced the walkway with a brand new, leveled brick path.

Mrs. D's newly renovated porch is now a safe and comfortable space to relax in the fresh air.
For the past 31 years, Christmas in April has repaired 2,744 homes with the help of over 93,900 volunteers. An estimated $49.7 million worth of free labor has gone toward serving our friends, family, and neighbors in Prince George's county.
Community Forklift has been a proud partner of Christmas in April since 2011. Through our Community Building Blocks program, we've been able to offer their organization free appliances, building materials, hardware, and other supplies for their community projects and homes.
Learn more about their efforts and successes on their website. And remember, every time you shop or donate to Community Forklift, you're partnering with us in our work to support our local community, revitalize our neighborhoods, care for the environment, and champion amazing projects like Christmas in April!
Homeowners take a look at their new renovations for the first time.

Homes oftentimes have roofing issues, which can lead to dangerous structural problems and health concerns like mold and mildew in the house.

Volunteers repair fences and secure outdoor spaces as well as indoor areas.

Bathrooms are often upgraded and repaired.

Fresh coats of paint can brighten up a senior's house and help them feel at home again.