Community Forklift CEO, Nancy Meyer, Honored with Prince George's Sierra Club's Environmental Service Award
Community Forklift is proud to announce that our CEO, Nancy J. Meyer, has been honored with the 2019 Walter "Mike" Maloney Environmental Service Award by the Prince George's Sierra Club.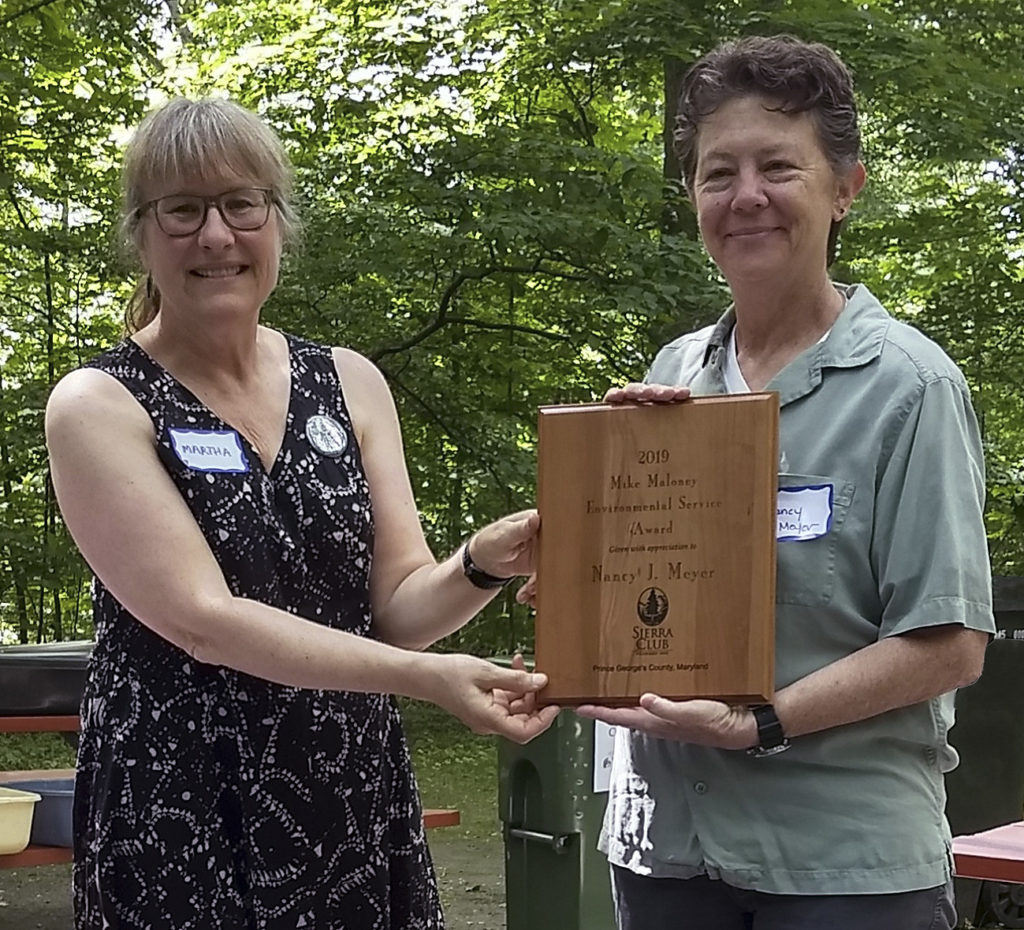 "This award honors Nancy J. Meyer's outstanding leadership in putting Community Forklift on a positive and sustainable trajectory — to promote reuse, reduce waste, and conserve resources; create green jobs; and build the community in Prince George's County," said Martha Ainsworth, Chair of the Prince George's Sierra Club Group.
Nancy J. Meyer (right) receives the Prince George's Sierra Club's 2019
Environmental Service Award from Martha Ainsworth (left). Photo
courtesy of Marian Dombroski.
The award ceremony was held outdoors at Watkins Regional Park in Kettering, MD on Saturday, June 8. Many of Meyer's colleagues and fellow environmental leaders were there to congratulate her.
Adam Ortiz, 2018 winner of the Environmental Service Award, Community Forklift Board Member, and Director of Montgomery County Department of Environmental Protection (formerly Director of Prince George's County Department of the Environment) said Nancy is "a visionary for a closed-loop green economy and the heart of our movement."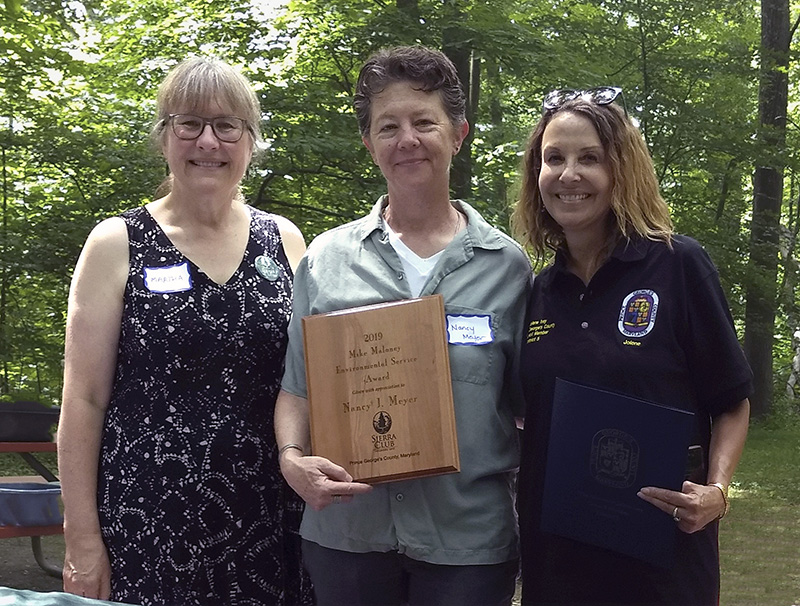 The Honorable Jolene Ivey, Prince George's County Councilwoman, District 5, presented Meyer with a Proclamation from the County Council, congratulating her on receiving the Walter "Mike" Maloney Award.

Meyer (center) receives the Environmental Service Award and a County Council congratulatory Proclamation from Ainsworth (left) and Councilwoman Ivey (right). Photo courtesy of Marian Dombroski.
"Nancy manages to salvage building materials, our environment, and people, all at the same time," remarked Councilwoman Ivey. "She figures out where she can have the best impact and goes beyond expectations. Whether it's stopping a concrete batching plant from setting up in her community or expanding a salvaging business into an award-winning community jewel, Nancy is a force of nature. I'm so proud to have her not only in my county but in my district."
The Prince George's Sierra Club Group established the annual Environmental Service Award in 2005 to honor the late Walter "Mike" Maloney—a civic activist, County Council member, and attorney dedicated to the rights and the quality-of-life of everyday people. Nominees are County residents who have shown excellence in local environmental leadership. Previous winners include Thomas Dernoga (2005), Fred Tutman (2006), Imani Kazana (2007), Carmen Anderson (2008), Paul Pinsky (2009), Kelly Canavan (2010), Bonnie Bick (2011), Dan Smith (2012), Vernon Wade (2013), Jacqueline Goodall (2014), Mary A. Lehman (2015), Lore Rosenthal (2016), Marian Dombroski (2017), and Adam C. Ortiz (2018).
###
The Sierra Club is the oldest and largest grassroots environmental organization in the nation. Its mission is to explore, enjoy, and protect the wild places of the Earth.
###
Community Forklift is a nonprofit reuse center for home improvement supplies. We pick up donations of unwanted and salvaged building materials, architectural salvage and furniture throughout the metro DC region. Then, we make the materials available to the public at low cost, and provide vintage materials for restoring old homes. We also offer public education about reuse, provide a space to build community and distribute free supplies to local nonprofits and neighbors in need.