Latinx community puts upcycled art on parade
We've had a busy summer distributing free materials to nonprofits, schools, volunteer groups, and other community based groups through our Community Building Blocks (CBB) Program. Since January, we've awarded $37,706.60 in materials to 60 partners, and have provided $12,290.19 worth of materials to 39 partners so far.
One group that benefited from a CBB grant was Wheaton Arts Parade – a local nonprofit that celebrates art, cultural diversity, and the revitalization of the Wheaton area in Montgomery County, Maryland.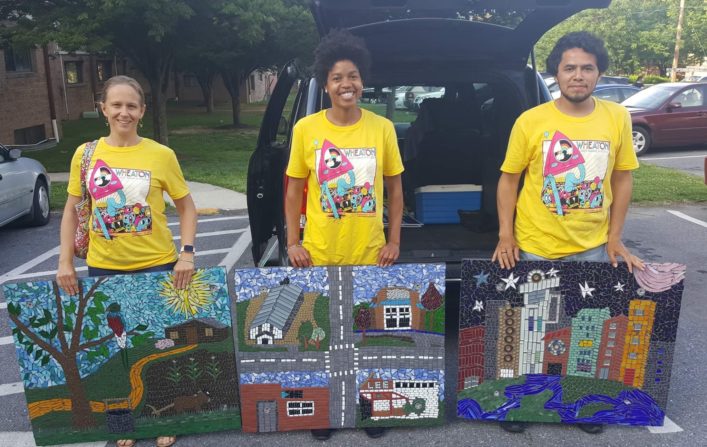 In an effort to engage Wheaton's diverse cultures, WAP invited students, families, and members of the Spanish-speaking community to a free art workshop to create two large three-panel community mosaics. WAP sought a CBB grant for materials, and received a donation of 3 boxes of our surplus tile and 67 lbs of vintage stained glass scraps. These materials were once headed to a landfill, but now they've been given a beautiful new life!
We're excited to share that WAP is debuting the Community Mosaics on September 22, 2019, during WAP's third annual Wheaton Arts Parade & Festival. (You should check it out! There will be music and dance performances, more than 70 local artists selling their work, art-making demos, family art & sensory inclusion activities, and food from some of Wheaton's favorite restaurants)
"The three panels show images from the residents' past in El Salvador, of Wheaton as they see it today, and their vision of their community of tomorrow. " – WAP

This panel depicts how students and parents see their current town.

The panel depicts how students and parents envision their community's future.

Artist Edwin Salmeron led an art workshop during the evenings for families to attend.

The artist himself laying down grout to hold glass pieces together.
One of the three-panel mosaics was undertaken in cooperation with Montgomery Housing Partnership. Here's what they had to say about the piece:
Thanks to a partnership with Wheaton Arts Parade, the world will get to view these mosaics created by a multi-generational group at MHP's Amherst and Pembridge Apartments in Wheaton. Parents worked on a panel depicting the past, including symbols of Latinx culture and tradition. Middle-school students worked on a panel to depict the present, which shows school and home, and then a panel on the future of their community as they imagine it. Thank you to WAP for providing this opportunity for creative expression. After being part of the art parade on September 22, the panels will be installed outside at the Amherst/Pembridge apartment buildings. Big thanks to Arts and Humanities Council of Montgomery County for grant support and to Community Forklift – Nonprofit Reuse Center For Home Improvement for donation of materials.