Maryland State Employees: contribute by December 17!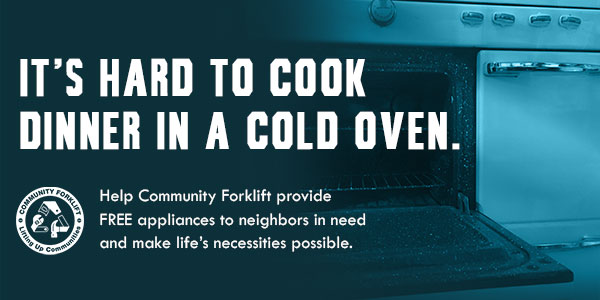 How do you cook a healthy and affordable meal for your family without a working stove or refrigerator? How does a person with mobility issues clean their clothes when their washer stops working? How does a senior recover from a medical condition in a house without a working air conditioner?
Thousands of Maryland families and individuals with low incomes struggle with these issues every year. Community Forklift picks up donations of building materials, furniture, appliances, and more and gives those in need access to these basic life necessities.
Maryland State Employees and eligible Retirees can support Community Forklift's community building mission through a convenient Maryland Charity Campaign payroll deduction.
The campaign only lasts until December 17,
so please donate today.
Log on to mcc.maryland.gov
Click "Give Now" and complete the giving process online
Use Community Forklift's Charity Code, 52-1975012
***
Not a Maryland State Employee or eligible Retiree? Visit CommunityForklift.org and discover all the ways you can contribute. Maryland residents who donate $500 or more by December 31, 2019, are eligible for a Community Investment Tax Credit. Thank you for helping Community Forklift lift up our community!