William Wirt Middle School Builds a Washroom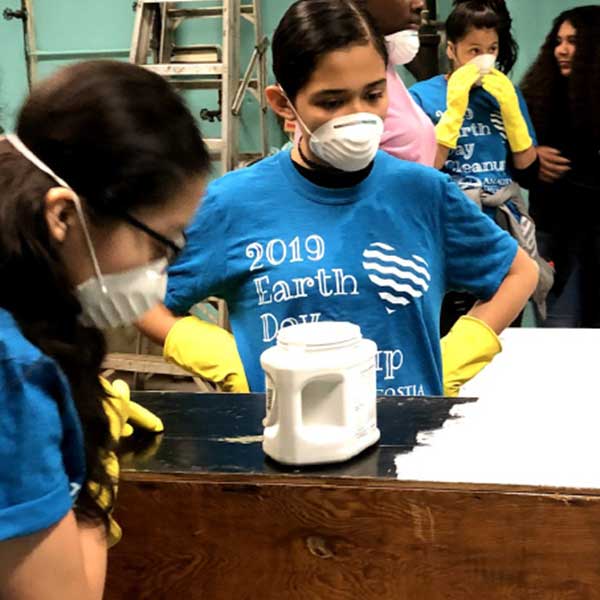 During this cold winter season, we wanted to share a heartwarming story about a group of teachers and staff at Prince George's County's William Wirt Middle School who were empowered to address the needs of their students by creating a school laundry room.
Resource teacher Monica says that the school is Title 1 school in which 92% of its students receive free or reduced lunches. Students are required to wear uniforms and many of them come to school in unclean uniforms because they lack the means to regularly wash their clothes. In the hopes of helping these students, Monica and a group of teachers and staff wanted to create a laundry room with fresh paint, shelving, and folding areas to make the space usable and welcoming for families.
While on a tight schedule to complete the project, the group applied for a grant through Community Forklift's Community Building Blocks (CBB) Program, which distributes free building materials for projects that serve the greater community. Community Forklift provided William Wirt Middle School with free furniture pieces, laundry items such as ironing boards and drying racks, and paint.
We are ecstatic to hear that our neighbors at William Wirt have completed the project! They now have their very own laundry room providing for the needs of its 1,200 students and their families. According to Monica:
"[W]e would never have been able to prep the space without this grant. So, again I cannot begin to thank you all."
We loved hearing how our CBB program helped Monica and the other activists at William Wirt lift up their community.
***
Community Forklift is so grateful to be a part of this community! As we close out 2019, remember that you can make an end-of-year financial donation at CommunityForklift.org. Every financial gift, large or small, helps us fulfill our mission. Community Forklift is a 501(c) 3 non-profit corporation and donations are tax-deductible to the maximum extent allowed by law.