Show Us Your Salvage Love: new Community Forklift swag is at the warehouse!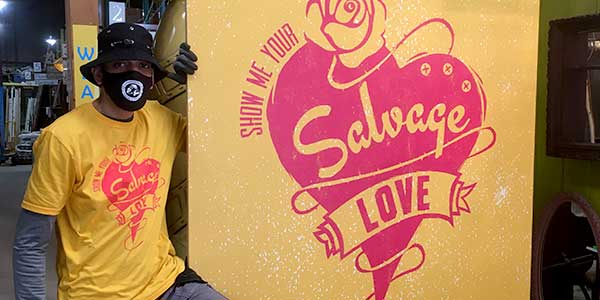 Are you a Salvage Fanatic? An Upcycling Wizard? A Reuse Enthusiast? Wear your Second Hand Heart on your sleeve — or more precisely your chest — with some awesome new Community Forklift swag! Proceeds from the sale will go toward Community Forklift's mission of keeping usable items out of the landfill and providing free and low-cost home essentials to the community!
T-Shirts
Community Forklift "Show Me Your Salvage Love" t-shirt are available in two colors and multiple sizes. The semi-fitted 100% cotton shirts feature our super stylish Salvage Love design on the front and the equally-stylish Community Forklift logo on the back. T-shirts are available for $25 at our reuse warehouse or on the Community Forklift Marketplace with in-store pick-up! Rather not come to the store? We'll mail you your shirt for an extra $10!
Facemasks
You can also literally put your reuse love where your mouth is with a black facemask featuring a white Community Forklift logo! The facemask is two‑ply cotton that meets CDC guidelines and features adjustable ear toggles, a moldable nose bridge, and soft elastic ear loops. Get your facemasks for $15 in our reuse warehouse or on the Community Forklift Marketplace with in-store pick-up!
As always, thank you for supporting reuse and Community Forklift!
***
Every time you donate or shop at Community Forklift, you're helping us lift up local communities through reuse. We turn the construction waste stream into a resource stream for communities in the DC region – by keeping perfectly good items out of the landfill, preserving historical materials, providing low-cost building supplies, and creating local green jobs.