Jobs & Internships
---
Open Positions
---
Receiving and Processing Associate
Community Forklift is seeking a Receiving and Processing Associate to work full-time with our growing green business. This person will assist with the receiving and processing of donated building materials. Responsibilities include cleaning, repair and organization of donated items, coordinating with the Pricing and Sales Teams for pricing and merchandising, and assisting with day-to-day operations of the warehouse and sales areas of the facility.
Qualities of the perfect candidate
• Working knowledge of building materials or architectural salvage; prior work experience in a hardware store preferred but not required
• Familiarity and enthusiasm for recycling, reuse, sustainability, environmental advocacy and green business
• Expressed commitment to the Community Forklift mission
• Works well in a cooperative team-based environment
• Excellent organizational and customer service skills
• Ability to follow through on work assignments in a timely manner
• Capacity to perform physical labor and moderate to heavy lifting in a non-climate controlled environment, including the ability to work in all seasons and in difficult weather conditions
• Ability to multitask and prioritize responsibilities
• Strong interpersonal and communication skills
• Strong English speaking and writing skills; bilingual Spanish preferred
About the Position
• 40 hours a week
• Unload and process donated materials accurately and efficiently
• Organize priced building materials and products to facilitate easy distribution to the sales floor
• Support Pricing and Sales Teams
• Help keep the processing areas organized and clean
• Monitor and maintain inventory of pricing supplies
• Work cooperatively and collaboratively with staff to fulfill the mission and support team activities
Benefits include
• Competitive hourly wage
• Subsidized health, dental and vision plans
• Opportunity for advancement as the business grows
About Community Forklift
Community Forklift is a nonprofit reuse center for home improvement and architectural salvage. The store accepts donations of new, gently-used and vintage building materials; these donated renovation supplies are then made available to the public at low prices and donated to local nonprofits. Community Forklift is located outside Northeast DC, near the Hyattsville Arts District.
To Apply
Send a resume, cover letter and three (3) professional references to jobs@communityforklift.org, or by regular mail to Receiving and Processing Associate, c/o Community Forklift, 4671 Tanglewood Drive, Edmonston, MD 20781. Please, no phone calls.
Community Builders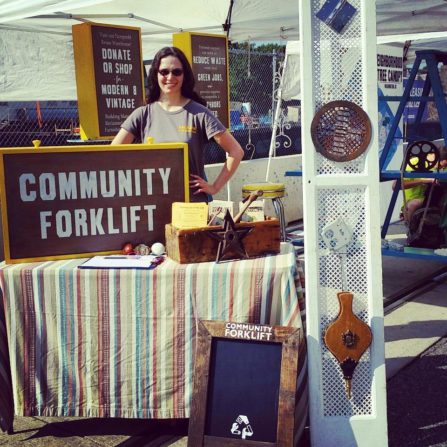 Looking for extra or occasional work?
We are always on the lookout for outgoing people to help our Outreach & Education team as on-call contractors, or "Community Builders."  Our Community Builder team has a lot of fun at festivals and events throughout the region and here at the Forklift warehouse. We spread the word about our store and community giving programs, and educate the public about local reuse and recycling options.
We need extroverts who can talk to the public at street fairs and trade shows, help at special events, host workshop presenters in our classroom, and lead volunteer groups at our warehouse.  Our Community Builders are extremely enthusiastic, creative, genuine, and committed to the environmental and community work we do.
Hours vary according to your availability and our needs, but our busiest seasons are weekends in April – June and September – November.
As a Community Builder, you will:
• Represent Community Forklift by staffing an information table at community events and festivals (this may be alone or alongside another staff member or volunteer)
• Assist with special events and in-store programming
• Lead groups of volunteers to process donations and maintain the organization of our materials
• Speak with the public to share info about our mission, upcoming events & promotions, store policies, directions, our products, and other recycling & reuse options
• Answer questions and requests
• Gather information from donors, customers, and the public as requested (for example: interesting stories about origins of historic materials, or fun stories about how customers used items from our warehouse)
• Work creatively and cooperatively with Community Forklift staff to fulfill our mission
• Participate enthusiastically in organizational activities and meetings
Qualities of the perfect candidate:
• An extremely outgoing personality and natural ability to make others feel comfortable
• Excellent English-speaking skills (fluent Spanish-speaking and writing skills are a plus)
• A shared commitment to Community Forklift's mission and values, which include social and environmental sustainability, reuse, and serving our community
• Interest in building materials, architectural salvage, green business, and reuse
• Capable of physical labor in all seasons (the warehouse is NOT temperature controlled, and many events are held outdoors), and the ability to lift and move 25 pounds on a regular basis
• The ability to work multiple weekend days a month, particularly in the spring and fall (occasional weekday availability is a plus)
• Careful attention and good follow-through on remembering details, completing reports, and the ability to work in a busy environment
• Consistent, dependable, punctual, and reliable habits
• Superior customer service skills, and an exceptionally friendly, patient, and courteous manner
• Proven experience working with a diverse range of people
• Must have reliable access to a vehicle and a clean driving record to transport materials to events (mileage reimbursement available)
• Must have a basic command of computer and internet use, and have daily access to email
Benefits include:
• Starting hourly pay: $11.50
• Opportunity to contribute to improving the environment and the community
• Opportunity for growth within the organization (many of our full-time employees started out as Community Builders!)
• Opportunity to learn about, and make professional contacts with, other green businesses and community organizations
• Flexible scheduling: This is an on-call contract position.
---
Internships
Community Forklift offers internships over spring, summer, and fall terms depending on our staffing needs as well as applicants' interests and skills. This is a great way for high school students (age 16+), college students, or career-switchers to get an introduction to fields and skills such as green business, sustainability, education and outreach, historic preservation, research, merchandising, or administrative work. Please find some of our general guidelines below, and feel free to email Ruthie Mundell at Ruthie@CommunityForklift.org if you have any specific questions.
Hours per Week: A minimum of 8 hours per week, but full-time internships are also possible.
Work Environment: Both office work and outside work possible. Casual, family-friendly dress code and sturdy shoes required. Warehouse is not climate-controlled, but our offices are.
Compensation: Unpaid position.  Reimbursement for travel.
Apply: Please send resume and cover letter to Ruthie Mundell at Ruthie(at)CommunityForklift(dot)org
Thank you for your interest in lifting up local communities!
---
Volunteers
Volunteer at the Forklift for a few hours, a day, or on a regular basis. Opportunities include greeting visitors, research and administrative assistance, helping out at community events, and cleaning or organizing donated items in the warehouse.  We welcome individuals and groups of volunteers ages 16 and up.  Seniors are encouraged to apply – you do NOT need to lift heavy items to be useful!
If you are interested in volunteering, please fill out our volunteer interest form.
If you are willing to lead a workshop about a repair or upcycling topic, please fill out our workshop presenter form.  If you are a contractor or artisan, it's a great way to serve your community, get some publicity, and meet potential clients.
As a non-profit organization, Community Forklift relies greatly on the support of our community. When you volunteer your time and skills, we can get a whole lot of 'Lifting done together!