Donate a Vehicle
Give us a lift with a vehicle donation
In addition to building materials, Community Forklift also accepts donations of vehicles! They can be in running or non-running condition, but vehicles must be worth more than the cost of the tow in order to be accepted. That's how we are able to generate proceeds for our 501(c)3 non-profit!
Donate online or call (866) 829-2918 to support our mission with your vehicle. You can donate your:
Commuter Vehicle: Car, Truck, SUV, Minivan, or Motorcycle
Recreational Vehicle: Motorhome or Camper
Watercraft: Motorboat, Sailboat, Fishing Boat, Houseboat, Jet Ski, or Pontoon Boat
Specialty Vehicle: Snowmobile, ATV, Riding Lawn Mower, Motorized Wheelchair, Golf Cart, Forklift (see below!), or Tractor
Company Fleet Vehicle: Bus, Van, Box Truck, Learjet, or Ambulance
Uber-Special Vehicle: Spacecraft, Dirigible, Battleship, UFO, Cruise ship, or Submarine
Vehicle donations are a natural fit for our mission. Donating to Community Forklift is a green choice that supports our daily reuse operation and turns that old beater into a reusable resource. Thank you for the support!
---
Do you have a forklift to donate?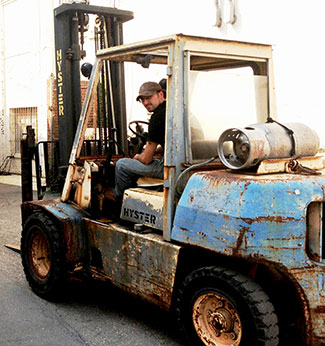 Our two OLD forklifts, Leaky and Stumpy, just can't do it all. They have been working in our two warehouses since we opened in 2005.
We keep hoping someone will donate a working forklift! (The irony of Community Forklift needing a forklift is not lost on us.) Maybe Leaky and Stumpy could finally retire.
Our dream forklift would have a beeping reverse, a flashing light spinning at the top, pneumatic tires that can go off-road in our courtyards, and actual brakes. Yup, driving our forklift around here is a special kind of job.
Call us directly at (301) 985-5180 if you have a forklift that you'd like to donate! We will give you naming rights.
---