Calendar
Seeking volunteers for our Workshop Program
We are always searching for new workshop presenters! If you are a tradesperson or creative DIYer and would like to help with a workshop on practical how-to's or creative reuse, please propose your workshop idea here. Please spread the word to your handy friends, too!
---
Upcoming Workshops
Pick up a new skill! We offer free public workshops throughout the year. Whether it's a workshop on how to build a cold-frame for starting seeds or period-appropriate renovations for historic houses, we explore different ways to encourage reuse and environmental stewardship in your own home.
There are currently no new workshops scheduled – please continue to check in for updates or subscribe to our newsletter to learn about our free workshops and events each month.

---

Community Forklift hosts public events & festivals throughout the year.
Please sign up for our blog and newsletter to receive all of our updates and details!
If you would like to be considered to exhibit, vend, or play music at one of our events, please complete our online form.
---

Yearly Traditions
Tables and band slots fill up fast, so please fill out our partner interest form soon if you'd like to exhibit, vend, or play!
---
Annual Garden Party
Our annual Garden Party is a fun-filled event with a ton of landscaping and garden supplies; gardening demonstrations, experts, and vendors; activities for kids; live bands; and local food. It's usually held in late May or early April – so keep an eye on our blog or newsletter for details.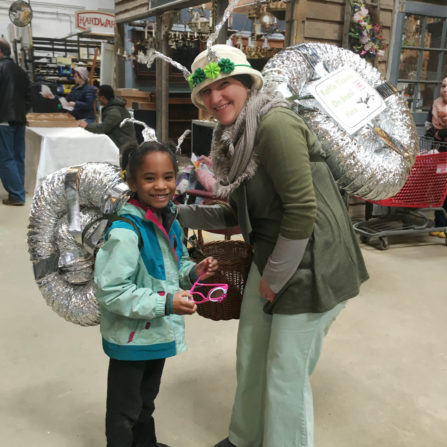 ---

Forklift First Fridays
May – October
Join us for live music, local art, funky food trucks and a pop-up bar on the first Friday of each month throughout the summer!