Forklift First Friday: Special Edition

Jazz Night at the 'Lift: Funding in/Fusion
June 7 | 6 – 8:30pm
---
Join us for a very special edition of Forklift First Friday
Sponsored By:
Heavy Lifters
The Honorable Jolene Ivey, Prince George's County Council, District 5
The Naomi & Nehemiah Cohen Foundation
Salvage Superhero
The Honorable Calvin S. Hawkins, II, Prince George's County Council, At-Large
Reuse Rebels
The Honorable Deni L. Taveras, Prince George's County Council, District 2
The Edie & Pat Yinkey Foundation
Waste Warriors
The Honorable Dannielle M. Glaros, Prince George's County, District 3
The Honorable Todd M. Turner, Chair, Prince George's County Council, District 4
Central Square Bladensburg Center
Studio 3807
Shortcake Bakery
Forklift Fans
Reverend Gail Addison
End Time Harvest Ministries
J. Alexander Management Company
Lusk Damen Charitable Gift Fund
Neighborhood Design Center
Beth Grupp Associates
---
Featuring:
Live music from The Tritone Jazz Trio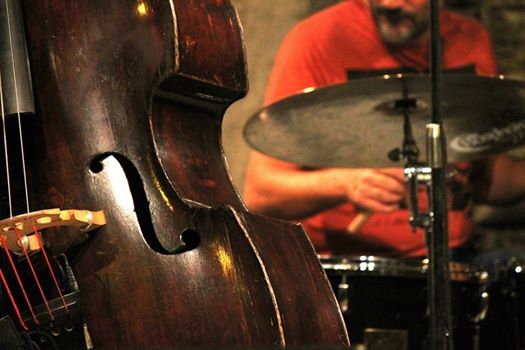 The Tritone Jazz Trio loves to swing; sprinkling in some Latin vibes, and then turning it up with some BeBop, but they always keep it in the groove.
Dinner by Holy Crepes!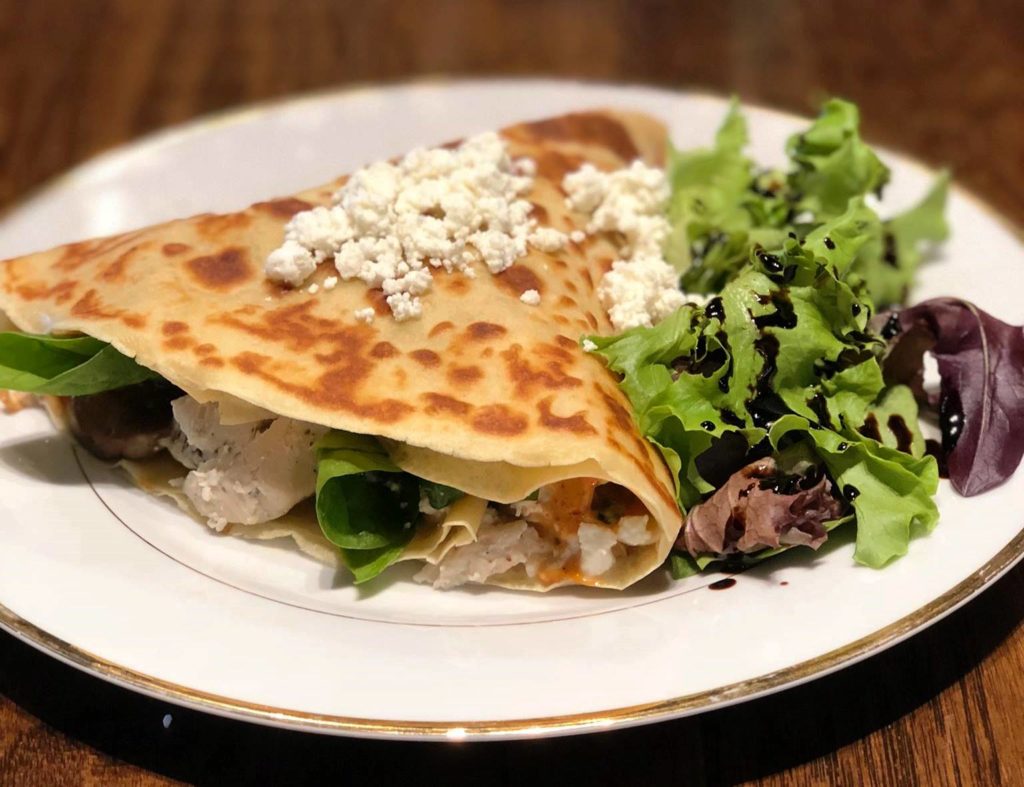 Don't miss this gourmet food truck that serves delicious Crepes! Sweet and Savory; divine flavors that melt in your mouth.
And a Pop-Up Bar!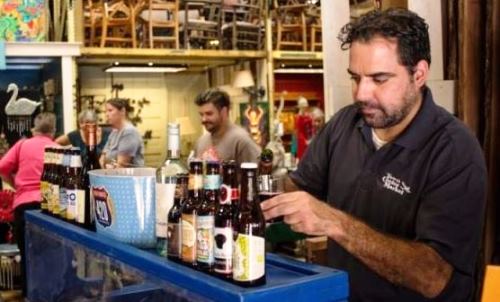 Town Center Market is back for their fourth year in a row, serving up craft beers and wines at their signature Pop-Up Bar!
---
Art Walk:
A native of Washington, DC, Nancy V. Sims has resided in the Arts District in Hyattsville, MD for 11 years. Her art creations are sourced from the heart as she delves into stained glass and mixed media creations, but painting always remains her first love.
Heather Olsen creates rustic furniture, often using wood salvaged from DC homes built in the early 1900s. From coffee tables and benches to doghouses and board games, her goal is to create nice things for folks to see and touch, and ultimately, to give them opportunities to slow down in their homes. Custom orders welcome – she loves to collaborate!
Katie Cote makes colorful handmade jewelry utilizing new elements with repurposed beads and beads made in Haiti from recycled cardboard boxes. Made in Maryland with recycled and donated beads. Supporting Haitian women creating beads with recycled paper and cardboard.
Born and raised in rural Georgia, Kasse has an affinity for the local red clay. "My first experience was on a Sunday family outing, we went to Jugtown Pottery. There I was mesmerized by the potter's wheel and the shapes that came from a lump of clay. My creativity was ignited. I exhibit nationally and internationally and rely on Community Forklift for supplies and ideas."
Little Blue Table specializes in rehabbed and reborn custom furniture and decor created from salvaged pieces. Featuring multi-use creations that are designed with small living spaces in mind.
---
Family Fun: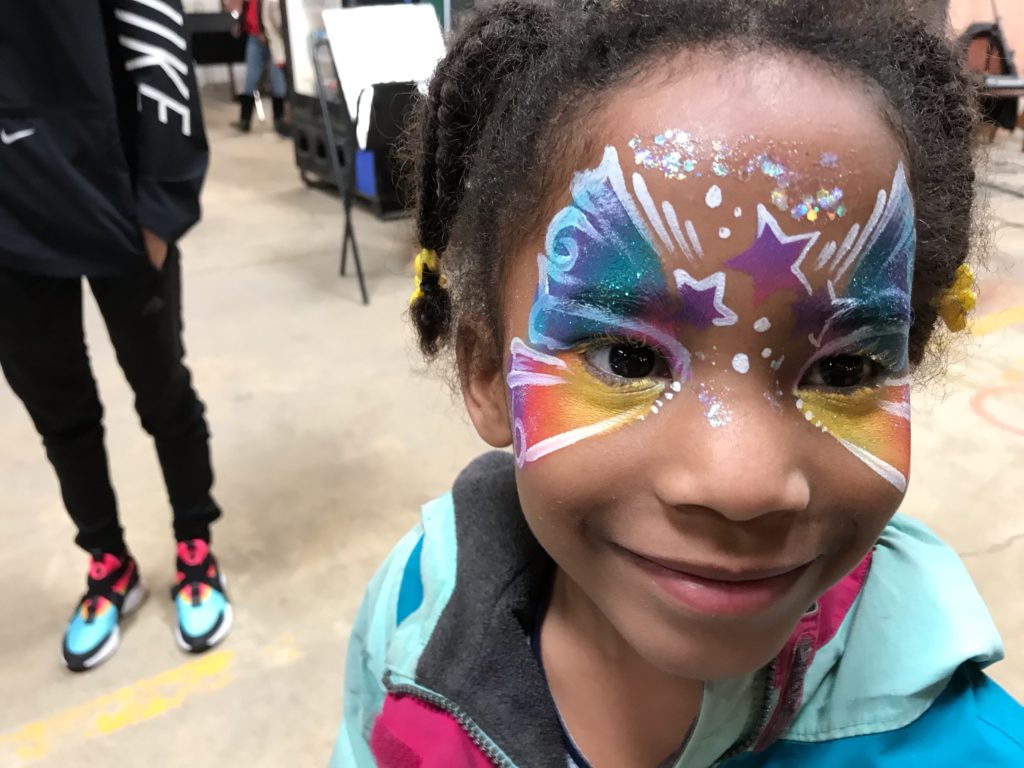 Kids will have a blast dancing and exploring; plus make sure to stop at
Rachel Israel's Signs Wonders and Gifts table for FREE fabulous face painting!
---
Need a little mystery in your life?
For 2 hours only, we'll be running a mystery sale here in the warehouse!
Be on the lookout for our big announcement only a couple of hours before the event starts
---
Become a Sponsor!
Sponsoring Jazz Night at the 'Lift is a great way to show members of our community that you support local events, and the work the 'Lift does to lift up its community! Review the sponsorship options below, then proceed to the form at the bottom of the page.


---
Can't make it this month?
Don't worry! There are three more Forklift First Fridays to catch:
July 5th
August 2nd
September 6th
For more information about our events, check out our calendar or subscribe to our blog for regular updates.
***
You can also shop with us any time on the Community Forklift Marketplace, Ebay, and Chairish!
***
Community Forklift aims to turn the construction waste stream into a resource stream for communities in the DC region – by diverting landfill waste, preserving historical materials, providing low-cost building supplies, and creating green jobs. Every dollar you spend in our warehouse helps us lift up local communities through reuse.