August, 2019 Newsletter
Lifting up communities through reuse
Forklift First Friday
August 2, 2019 | 6 – 8 pm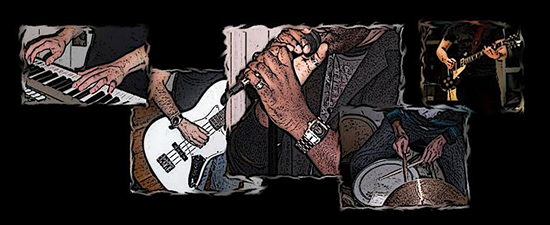 Join us at the warehouse on August 2nd for a cool Friday event to kick off your weekend!
On the first Friday of May through October, we stay open late and bring you live music, local art, funky food trucks, a mystery sale, and a pop-up bar. This is the real "Forklift After Dark" experience!
Featuring:

The Vico Cycle is a group of like-minded musicians based in the Washington, DC metro area who have come together to blend rock, funk, soul, blues, and hip-hop into a lively fusion of raw sound. They've played several times here at the 'Lift, and we've learned to expect the unexpected!
| | |
| --- | --- |
| | Enjoy a delicious dinner of healthy Asian food, including pho and other soups, assorted noodle and rice dishes, and Asian tacos! |
| | |
| --- | --- |
| Town Center Market is back for their fourth year in a row, serving up craft beers and wines at their signature Pop-Up Bar! | |
Local Artist Market:

Damien Ossi

AFrancis Pottery

Rasp & File Designs

While you enjoy the live music and funky atmosphere, peruse our Artist Market where you'll find: Damien Ossi's beautiful carved spoons; Lauren Matthews of Rasp & File Designs with beautiful wood benches, coffee tables, bookshelves, and more; Andrew Francis Pottery, quirky, unique, functional, durable pottery made to be used; Tracy of TV's Bees will be offering her special Mt. Rainier honey to Forklift fans.
Family Fun:

Kids will have a blast dancing and exploring. Plus, make sure to stop at Rachel Israel's

Signs Wonders and Gifts

table for FREE fabulous face painting and prepare to be amazed by strolling magician,

Matt Neufeld

!
Need a little mystery in your life?

For 2 hours only, we'll be running a mystery sale here in the warehouse! Be on the lookout for our big announcement only a couple of hours before the event starts
Forklift First Friday
When: Friday, August 2 | 6-8pm
Where: Community Forklift
4671 Tanglewood Drive, Edmonston Maryland 20781
Who: YOU! And your friends, family, kids, neighbors, coworkers, and (friendly, leashed) pets.
How Much: Free to attend—But you can support your local artists and businesses by purchasing their wares and tipping the band.
DONATE A VEHICLE

Support Community Forklift by donating any type of vehicle—planes, trains, or automobiles, especially forklifts—we'll take 'em!

The continuing adventures of
Leaky & Stumpy

Forced to labor on, Leaky and Stumpy are struggling in the summer heat! There is no light at the end of the warehouse for these two, and retirement still seems a distant dream! Warehouse life is hard on their rusty old parts. Our facilities manager, Keith Harper, strictly enforces their rehabilitation schedules, and won't let them even dream of a spa day. Just the other day, he had to take Leaky to the chiropractor to straighten out his tines after a really heavy load of bricks.

Doug coaxing 'Leaky' into
another day's work.

Thanks to our generous donors, Community Forklift's vehicle donation program is off to the races. Not so much the search for one good forklift to replace Leaky and Stumpy, who were ready to retire years ago. Forklifts are expensive and hard to come by used, so we need your help to crowdsource a newer, more reliable, less leaky, forklift.
Shop In-Store or Online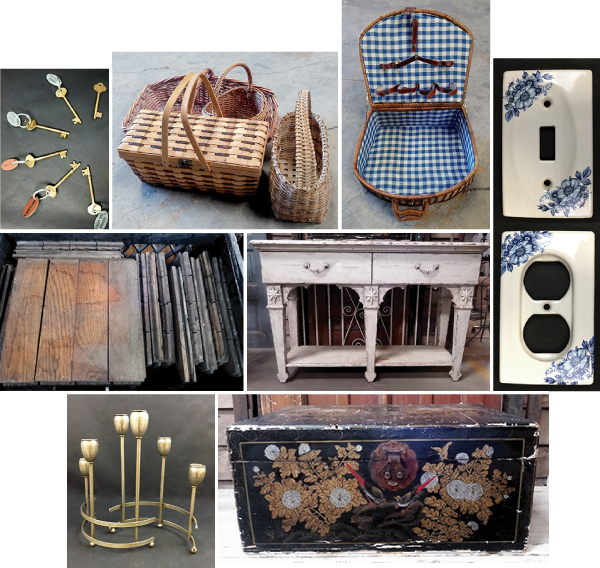 Clockwise from top left: Antique skeleton keys (eBay); vintage garden and picnic baskets (in-store); porcelain floral switch and outlet covers (several available, Community Forklift Marketplace); antique Chinese paper lined chest (in-store); mid-century candelabras (Community Forklift Marketplace); oak parquet flooring squares, approx 180 square feet available (in-store); vintage French country buffet (in-store).
*The cool stuff goes quickly – items pictured may no longer be available.
August Sale

MODERN & VINTAGE BATHROOM FIXTURES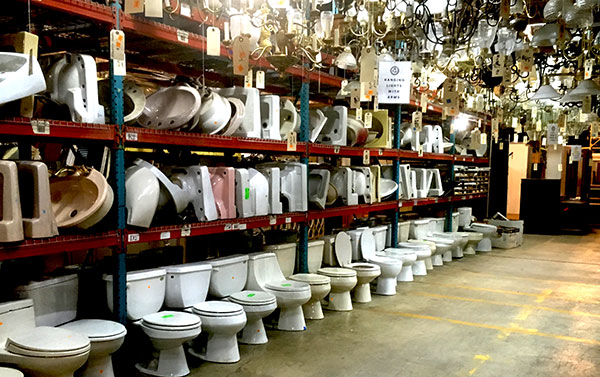 Take 25% off the marked price on hundreds of bath fixtures including sinks, tubs (including claw-foot tubs), toilets, vanities, and medicine cabinets.
*Sale does not include faucets, plumbing parts or hardware, kitchen or living room cabinets, mirrors not part of medicine cabinets, or endcap display items.
DONATE

We take donations of building materials, but did you know we also take…?

✓ Fine art: paintings, prints and drawings
✓ Antique & vintage jewelry & watches
✓ Area rugs and carpets
✓ Sterling silver serving & table settings
✓ Vintage furniture
✓ Any type of vehicle!

Learn More

.
August 2, September 6
& October 4
6 – 8 pm
Wheaton Arts Parade
FREE ART WORKSHOPS
Christmas in April—Prince George's County

Susan Mona & John Denison

Memorial Golf Tournament

Monday, September 23, 2019
COMMUNITY FORKLIFT
301-985-5180 |
www.CommunityForklift.org
4671 Tanglewood Drive, Edmonston, MD 20781
(5 minutes from DC, near Hyattsville)
Open 7 days a week, from 9am – 7pm
FOLLOW THE FORKLIFT