Lifting up communities through reuse

"I threw out some great stuff during my last renovation. I wish I'd known about Community Forklift sooner!"
Most homeowners and contractors have no idea that Community Forklift will pick up re-usable building materials, hardware, appliances, and select furniture, and give them a new life, creating green jobs, and lifting up the community.
In 2015, U.S. construction waste grew to 548 million tons per year, more than twice the amount of regular household trash!

90% of most buildings can be salvaged and reused through deconstruction.
Community Forklift addresses this problem every day! We turn salvaged materials into green jobs and resources for the region. Donations of home improvement supplies are crucial for our grassroots organization to thrive, and we need your donations to do even more for this community.
Be our spokesperson!
Your friends, family, and colleagues can be powerful advocates for a cleaner community.
It's easy: Spread the word about our free pickup service. Donors will save money on disposal costs and get a tax deduction (and Marylanders may qualify for additional tax breaks through the Community Investment Tax Credit Program). It's especially important to let contractors know about us and how we can help you green up your renovation.
Visit our website
for a few sentences you can post on Next Door or your neighborhood listserve. You can also forward this newsletter, follow us on social media, and talk about us around the water cooler!
Vote for Community Forklift
Help us win Best Green Business of 2019!
Select 'Goods & Services' and write us in for 'Best Green Business'.
Shop In-Store or Online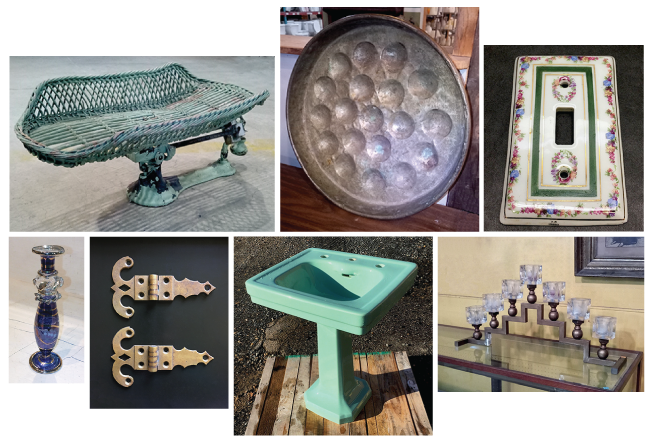 Left to right clockwise from top: antique wicker baby balance beam scale (in store), vintage copper food mold (in store), antique Limoges hand painted porcelain switch plate (Marketplace), vintage delicate glass vase, possibly Czech glass with gold lustre 4″ tall (in store), pair of solid brass ice-box hinges (Marketplace), vintage mint-green pedestel sink, excellent condition, (matching toilet also available)(ebay), 7 light candle holder (in store).
*The cool stuff goes quickly – items pictured may no longer be available.
Mountain of clutter
Don't fret, make more space for life
Donate, joyful spark
Caught up in the Kondo craze?
Learn more
about how Community Forklift can help.

| | |
| --- | --- |
| | |
Save on rolls of brand-new carpet, vintage rugs, and carpet tiles. Many solids and patterns available.
Sale does not include select specialty items, other types of flooring, items from our consignment partners, or items listed online.
Visit our website
for complete details and exclusions.
Events

FREE WORKSHOP
Finishing & Restoring Wood Floors
February 16, 2019 | 2pm – 4pm
Join restoration expert Gordon Bock for a discussion on restoring and finishing wood floors. Learn about types of wood, construction and installation, then issues and techniques for repair and restoration.

RSVP to reserve a seat
Around Town
Young Architects Workshop

App. Deadline: February 9, 2019

This 10-week youth apprenticeship program is designed to give 14-18 year olds hands-on experience creating digital 3D models for real-world clients.
Building Futures: An opportunity for PG County women to get into construction!

More applicants are needed
to make this program run.
The Metro Council AFL-CIO Community Services Agency has a federal grant to start its Building Futures Program in Prince Georges County. This program is limited to women. Contact Sylvia Casaro Dietert for more information at (202) 974-8223
Rooting DC is a FREE, all-day urban gardening forum that provides education about urban agriculture and food systems, cultivates health and protection of the environment, and builds community.
February 23, 2019

COMMUNITY FORKLIFT
301-985-5180 |
www.CommunityForklift.org
4671 Tanglewood Drive, Edmonston, MD 20781
(5 minutes from DC, near Hyattsville)
Open 7 days a week, from 9am – 7pm
(please drop off donations at least 30 minutes prior to closing time.)
FOLLOW THE FORKLIFT