Lifting up communities through reuse
The Story of Ray Stroud, Salvage Superhero

Behind the scenes at Community Forklift, coworkers are as close to each other as with their friends and families. There is nothing more important than assembling a great team, so hiring decisions at Forklift are critical.

Ray is one of the people making reuse happen in the warehouse everyday. Ray came to us through DC's Project Empowerment, a program that works to place people who have barriers to traditional employment. Project Empowerment runs an intensive training session for three weeks and provides support and job coaching, teaches their students to rise above personal challenges and to focus on developing a positive attitude in the workplace. They develop speaking and interviewing skills, build resumes, and teach students to advocate for themselves.
| | |
| --- | --- |
| | Ray's quiet determination and building maintenance experience stood out among the many Project Empowerment candidates we have interviewed, and we knew he was right for our team. Ray started at Community Forklift by attending orientation and trainings, learning about reuse and Forklift's mission. His goal was to land a permanent job, and now he's a supervisor! |
Spring Garden Party
& Fundraiser
April 6, 2019 | 10 AM – 3 PM
Garden tool sale starts at 9 AM
Join us for a fun-filled day of gardening demonstrations, activities for kids, live bands, local food, workshops, and vendors:

There will be prizes for people and pets dressed in garden party finery. Find yourself a dapper suit or fancy hat and check out all the activities in store for you!
Forklift Honored by National Remodeling Association
The National Association of the Remodeling Industry (NARI) Metro DC Chapter has presented Community Forklift with a 2019 Community Service Award.

Read all about it on our blog!

NARI members spread the word about the Forklift and work with their clients to send us many generous donations of materials.

Thank you,

NARI Metro DC

for being

a strong partner for our nonprofit.
Help us defend our title!
Let's win Best Green Business again in 2019

Select 'Goods & Services' and write us in for 'Best Green Business.'
Decluttering?
We have solutions!

Renovating? Clearing out the attic, basement, barn, or garage? Community Forklift offers free pickup service in the DMV.
Shop In-Store or Online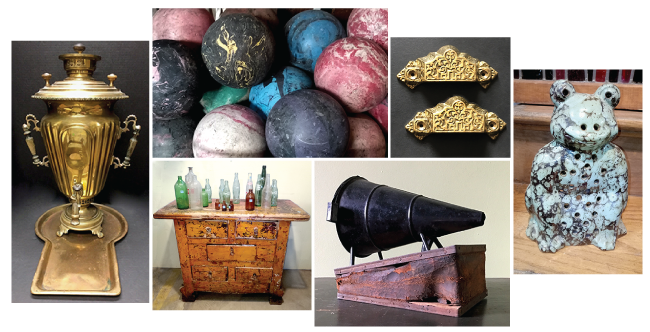 Left to right clockwise: Antique Russian Imperial Samovar C. 1898 (ebay), vintage duckpin bowling balls (in store), antique solid brass drawer-pulls (10 available, Forklift Marketplace), vintage ceramic garden frog (in store), antique bee smoker (Forklift Marketplace), antique European country drawers (in store), antique bottle (in store).
*The cool stuff goes quickly – items pictured may no longer be available.
Forklift in the News
Melissa Cooperson, Vintage & Specialty Products Pricing Coordinator, interviewed on

Bankrate.com

Ruthie Mundell, Donor Outreach & Special Projects Coordinator, interviewed for

Retail, Reformed
Courtyard
Clearance Sale
Save 25%

Save on granite & marble, cast iron sinks & tubs, wrought iron security doors, window bars, gates, and more!

*Sale does not include masonry, bricks, and cement blocks.
Work with Us
| | |
| --- | --- |
| | Current Openings: |
Upcoming Forklift Events
Clothing Swap
March 9, 2019 | 11am – 2pm
Have you been holding onto that pair of jeans you've outgrown, or that gift that really just wasn't you? Maybe your style has entirely changed. Your rags are someone else's treasure!

Join us for this unisex, family-friendly clothing swap. Bring a bag or more of clean, gently used clothes and then 'shop' for as much as you like!

Cost to participate is $5 at the door.
Around Town
The Men's Challenge:
Living Together Without Violence Initiative
Sessions: March 5, April 9 | 6:30 – 8pm
Momentum Men and Boys Conference
March 23, 2019 | 6:30 – 8pm
Hosted by by Prince George's County Department of Family Services
Domestic Violence and Human Trafficking Division. Learn More
Hyattsville Community Yard Sale Weekend

April 5-7, 2019
The City's 2019 Spring Community Yard Sale will take place April 5-7, during daylight hours. Participation is free, and registration is voluntary. Learn More
Building Futures Pre-Apprenticeship: FREE Training for Women in the Construction Trades

The Metro Council AFL-CIO Community Service Agency is running a free six week pre-apprenticeship program for women in Prince George's County interested in working in the construction trades. Contact Sylvia Casaro Dietert for more information at (202) 974-8223.

Applications accepted beginning March 25, 2019.
COMMUNITY FORKLIFT
301-985-5180 |
www.CommunityForklift.org
4671 Tanglewood Drive, Edmonston, MD 20781
(5 minutes from DC, near Hyattsville)
Open 7 days a week, from 9am – 7pm
(Please drop off donations at least 30 minutes prior to closing time.)
FOLLOW THE FORKLIFT
Subscribe
{{UnsubscribeLink}}