Lifting up communities through reuse
DON'T MISS THE FUN!
We're kicking off our annual
Forklift First Friday series TONIGHT
May 3, 2019 | 6 – 8 pm
*Our warehouse is open 'til 8 pm during First Fridays only
ART

While enjoying the live music and funky atmosphere, peruse our artists' aisle.

3 Peas Handmade Soaps

will prove that 3 hearts (4 with mom) are better than 1 in this family passion project!
FAMILY FUN!

Kids will have a blast dancing and exploring. Make sure to stop at Rachel Israel's

Signs, Wonders and Gifts

table for

FREE

fabulous face painting!
DINNER TIME

Urban Bumpkin's

identity crisis menu will give you plenty of unique snack and dinner options to choose from.
DRINKS…
POP-UP BAR

Town Center Market

is back, bringing an exciting selection of craft beers and wine to the 'Lift each month.
Need a Little Mystery
in Your Life?

For 2 hours only

, we'll be running a mystery sale here in the warehouse! Be on the lookout for our big announcement only a couple of hours before the event starts.
Shop In-Store or Online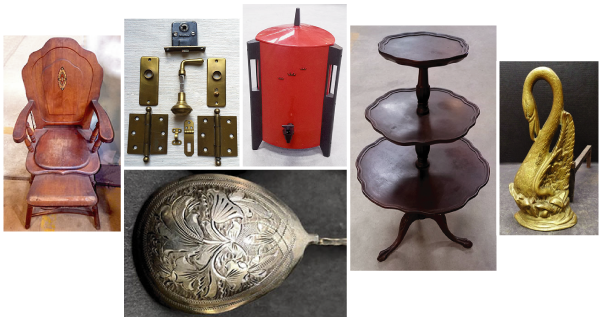 Left to right clockwise: Antique 3-in-1 high/potty chair (with pot!)(in-store), vintage complete brass screen door set (Marketplace), 1970's Regal Poly-Urn 30 cup coffee percolator (in-store), three-tier dumbwaiter table by Mersman (in-store), vintage cast brass swan andirons (ebay), Russian Imperial Niello silver spoons c.1875, set of 6 (ebay)
*The cool stuff goes quickly – items pictured may no longer be available.
Calling all Crafters,
Upcyclers & Collectors

Join the "RISE Business Marketplace" at Community Forklift!

Community Forklift's Reuse Incubator for Sustainable Environment (RISE) creates small business partnerships to attract, mentor and support small green and reuse businesses.

We currently have RENTAL SPACE available in our Reuse Center warehouse.




Charles at Decorative DeZign Interiors, RISE member
Shout out to
Bethesda Contracting!

Big shout out to Mike Thiede of Bethesda Contracting for promoting reuse to his clients, and for volunteering his time to lead several deconstruction projects for Community Forklift!
MODERN &
VINTAGE DOORS

This sale DOES include doors with stained glass, pebbled glass, and other specialty glass!!!
More than 2,000 modern and vintage doors in stock—save on barn doors, antique wood panel, french, bifold, louvered, and storm and screen doors. Also included are oversized doors, iron security doors, and modern doors in frames.
*Sales do not include select specialty items, items from our consignment partners, or items listed online.
DONATE

We take donations of building materials, but did you know we also take…?

| | |
| --- | --- |
| ✓ | Fine art: paintings, prints and drawings |
| ✓ | Antique & vintage jewelry & watches |
| ✓ | Area rugs and carpets |
| ✓ | Sterling silver serving & table settings |
| ✓ | Vintage furniture |

Join Community Forklift and our partners at the 5th annual Port Towns Pit Stop! Stop by Veterans Park in Edmonston (on the Northeast Branch Trail at Decatur St. & Taylor Rd.) and celebrate bicycling as a clean, fun, and healthy way to get to work.
Learn More
June 7, July 5, August 2,
and September 6
6 – 8 pm
Takoma Park
House & Garden Tour

May 5, 2019 | 1 – 5 pm

Join Historic Takoma, Inc. for their annual self-guided house and garden tour.

Learn More
Green Housekeeping Workshop

May 11, 2019 | 10:00 am – noon

Learn how to keep your household clean, green, and healthy! Presented by the Prince George's County Department of the Environment and the City of College Park.

Email Todd Larson to learn more.
Emerson Food Forest Tour

June 3, 2019 | Tour: 5:30 – 6:30 pm
Weeding: 6:40 – 7:30 pm

Discover delicious native fruits and nuts you can plant in your yard or community. Tasting permitted!

Learn More
COMMUNITY FORKLIFT
301-985-5180 |
www.CommunityForklift.org
4671 Tanglewood Drive, Edmonston, MD 20781
(5 minutes from DC, near Hyattsville)
Open 7 days a week, from 9am – 7pm
FOLLOW THE FORKLIFT