Lifting up communities through reuse
Forklift First Fridays
Are Just Around the Corner!
May 3, 2019 | 6 – 8 pm
June 7, July 5, August 2, and September 6
6 – 8 pm each night—watch for details!
Our warehouse is open 'til 8 pm during First Fridays only!
On the first Friday of each month, from May through September, we stay open late to turn the warehouse into a pop-up market with live music, local art, delicious food, craft beer & wine, and a mystery sale!
Visit our blog for the latest information
.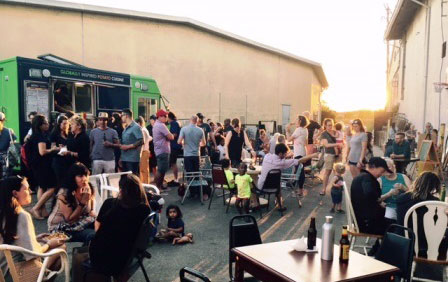 Photo courtesy of Route One Fun
| | |
| --- | --- |
| | DMV'S identity crisis menu, #offthebeatenpath BBQ-inspired Native American and far east dishes, featuring smoked meats and charcoal chicken. |
And drinks at our Pop-up Bar!

Town Center Market

is back, bringing an exciting selection of craft beers and wine to the 'Lift each month.
DONATE

We take donations of building materials, but did you know we also take…?

| | |
| --- | --- |
| ✓ | Fine art: paintings, prints and drawings |
| ✓ | Antique & vintage jewelry & watches |
| ✓ | Area rugs and carpets |
| ✓ | Sterling silver serving & table settings |
| ✓ | Vintage furniture |
Shop In-Store or Online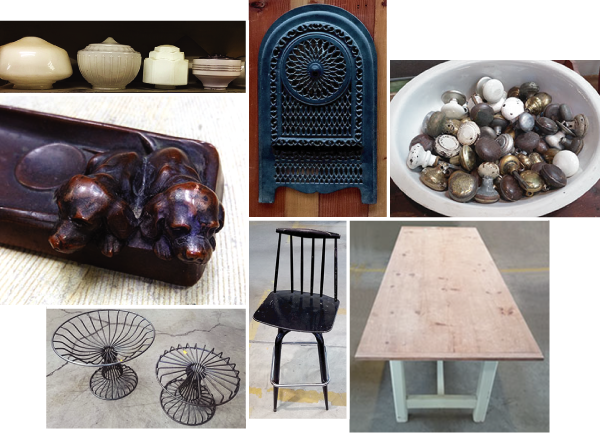 Left to right clockwise: Hundreds of vintage and antique light globes (in-store, eBay, & Marketplace), antique iron grate (in-store), thousands of doorknobs (in-store & online), six foot vintage pine farmhouse table (in-store), 1960's stick-back Danish style swivel bar stool (in-store), heavy wire racks (in-store), Art Nouveau bronze pen holder & inkwell with two Dachshunds (eBay)
*The cool stuff goes quickly – items pictured may no longer be available.
Spring Cleaning? Donate!

We accept donations of good, new or used items between 9am and 7pm. If your items are too large, arrange a FREE pickup in the DMV.
April Sale – Just 10 Days Left to SAVE!
MODERN & VINTAGE LIGHTING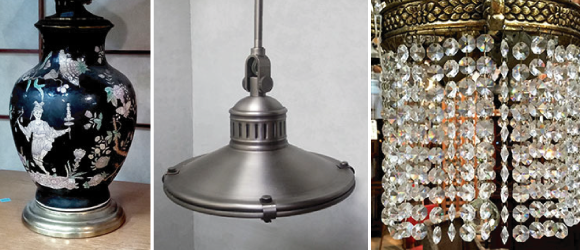 Take 25% off the marked price on hundreds of lights, from modern fixtures to antique chandeliers. Sale includes glass shades and globes, overhead lights, flush-mounted lights, wall sconces, outdoor lighting, fluorescent fixtures, and lamps from every era.
*Sale does not include ceiling fans, or electrical supplies.
Calling all Crafters, Upcyclers & Collectors
Join the "RISE Business Marketplace" at Community Forklift!
Community Forklift's Reuse Incubator for Sustainable Environment (RISE) creates small business partnerships to attract, mentor and support small green and reuse businesses.
We currently have RENTAL SPACE available in our Reuse Center warehouse.

Join Community Forklift and our partners at the 5th annual Port Towns Pit Stop! Stop by Veterans Park in Edmonston (on the Northeast Branch Trail at Decatur St. & Taylor Rd.) and celebrate bicycling as a clean, fun, and healthy way to get to work.
Learn More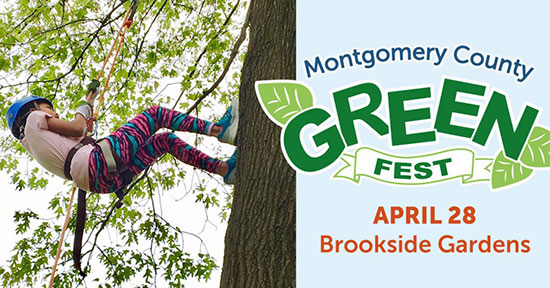 Historic Takoma, Inc.
Takoma Park
House & Garden Tour

May 5, 2019 | 1 – 5 pm

Join Historic Takoma, Inc. for their annual self-guided house and garden tour.

Learn More
COMMUNITY FORKLIFT
301-985-5180 |
www.CommunityForklift.org
4671 Tanglewood Drive, Edmonston, MD 20781
(5 minutes from DC, near Hyattsville)
Open 7 days a week, from 9am – 7pm
FOLLOW THE FORKLIFT
Subscribe
{{UnsubscribeLink}}