Mid-July, 2019 Newsletter
Lifting up communities through reuse

Pop-up Hardware Store!
Don't you love locally owned, neighborhood hardware stores? The kind of place that has tools and bolts, but also grilling accessories, canning jars, cleaning supplies, and good old-fashioned conversation?
Well, come visit our Hardware Pop-Up Shop!
We recently received a generous donation of overstock from just such a store, so we created a Pop-Up Shop to showcase the new merchandise. You'll find lots of cleaning and household supplies, DIY necessities, kitchen sundries and much more, at bargain prices.

We've also added fun vintage finds from our own hardware section like hand tools, gardening equipment, lighting and antique household items.

Cleaning Supplies

Brushes, dustpans, cleaners, sponges, mops, and more!
Harvest time is near, which means canning time!

We have canning jars, lids, wax, rubber seals, and other canning supplies available.
Our hardware store on

Ebay

We have several new power tools, wrench sets, and other items from our hardware store available on ebay.
Popup Hardware Store Hours
7 Days a week, 9am – 7pm.
At Community Forklift
4671 Tanglewood Drive, Edmonston Maryland 20781
Forklift First Friday
August 2, 2019 | 6-8pm

Featuring:

Live Music –

The Vico Cycle

Local Artist's Market

Great Food

Beer & Wine

Mystery Sale
Shop In-Store or Online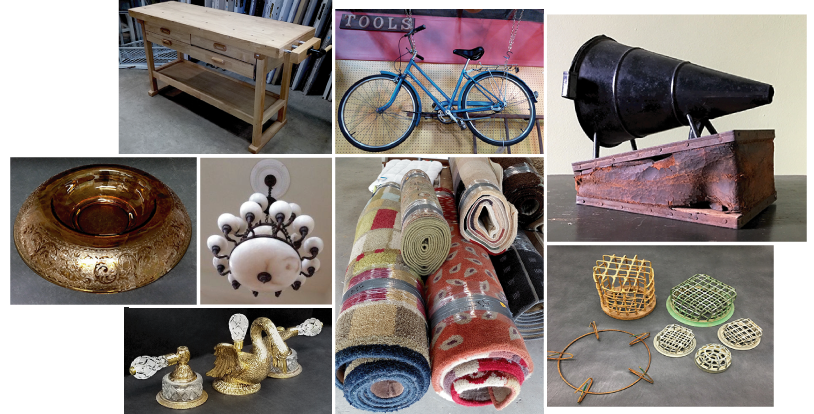 Clockwise from left: Maple wood-working bench with four drawers and vice (in-store); 1970's Raleigh Space Rider mixtie frame 3-speed bicycle (in-store); antique bee smoker (Community Forklift Marketplace); vintage flower arranging/ikebana frogs (many types available, Community Forklift Marketplace); colorful area rugs (in-store); Sherle Wagner crystal and gold swan vanity faucet in excellent condition (ebay); large Art Nouveau alabaster chandelier 42″ diameter (ebay); Vintage topaz amber etched depression glass console bowl (Community Forklift Marketplace).
*The cool stuff goes quickly – items pictured may no longer be available.
July Sale – Just 2 weeks left!

MODERN & VINTAGE LIGHTING
Take 40% off the marked price on hundreds of lights, from modern fixtures to antique chandeliers. Sale includes glass shades and globes, overhead lights, flush-mounted lights, wall sconces, outdoor lighting, fluorescent fixtures, and lamps from every era.
*Sale does not include ceiling fans, or electrical supplies.
DONATE

We take donations of building materials, but did you know we also take…?

✓ Fine art: paintings, prints and drawings
✓ Antique & vintage jewelry & watches
✓ Area rugs and carpets
✓ Sterling silver serving & table settings
✓ Vintage furniture
✓ Any type of vehicle!

Learn More

.
August 2,
September 6,
and October 4
6 – 8 pm
Common Thread

Group Show at Studio SOHY

Opens July 13, 2019
Wheaton Arts Parade
FREE ART WORKSHOPS
COMMUNITY FORKLIFT
301-985-5180 |
www.CommunityForklift.org
4671 Tanglewood Drive, Edmonston, MD 20781
(5 minutes from DC, near Hyattsville)
Open 7 days a week, from 9am – 7pm
FOLLOW THE FORKLIFT