Lifting up communities through reuse
Forklift Fans Keep DC Cool!

Join the cause
to deliver cool, clean air to your neighbors in need!

As the temperatures rise each summer, Community Forklift receives a lot of requests for Air Conditioning units.

Through our

Home Essentials Program

, we try our best every year to provide free A/Cs to neighbors in need – but we don't have enough to meet demand, and our wait list is growing. We need your help!

In 2018, Community Forklift donated 41 A/C units to 30 area households in need, improving their standard of living. Air conditioning helps combat the high DC temperatures, filters polluted air, and can improve the health and safety of seniors, kids with asthma, or people suffering from lung and heart problems. One A/C unit only costs $125, and can make a world of difference.

Help us up our game. This summer, we want to help more neighbors in the DC area stay cool. Each donated A/C unit gets tested and cleaned, and processed in Community Forklift's Reuse Center warehouse. Your donated A/C unit helps those that need it directly, but also provides employment for us who work in the green industry. Reuse in action is a life cycle that benefits the whole community.

Join the cause to deliver cool, clean air to your neighbors in need! Here are three ways you can help:

•

Donate—If you have an A/C unit to give, either drop it off or request a free pick up.

•

Fund the cause—Help us purchase a new unit to donate directly to a Home Essentials client. A donation of $125 will cover the cost of one new unit.

•

Spread the word—Share our A/C campaign with your family, friends, and neighbors.

Your act of support, whether it's a material donation, financial gift, or verbal advocacy, will help our neighbors beat the heat this summer. If everyone chips in, we'll be able to serve the folks on our growing wait list, and successfully A/C the neighborhood.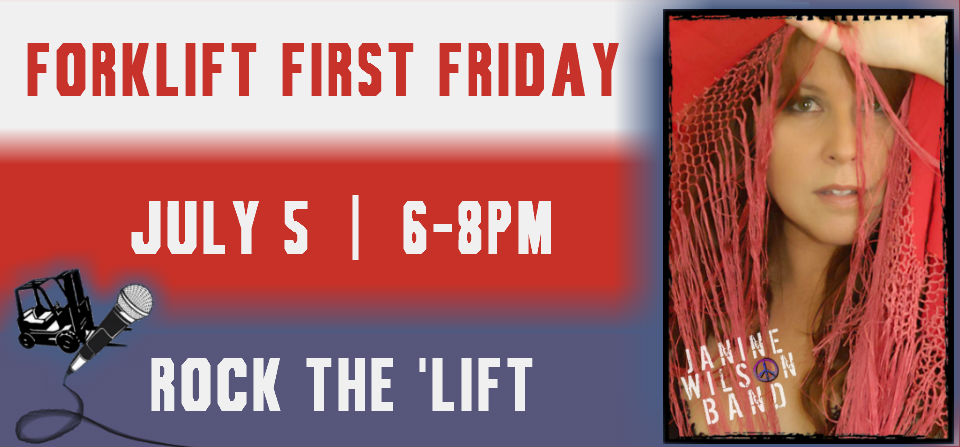 Join us at the warehouse on July 5th for a rockin' weekend event!
On the first Friday of each month, May through September, we stay open late and bring you live music, local art, funky food trucks, a mystery sale, and a pop-up bar. This is the real "Forklift After Dark" experience!
When: Friday, July 5 | 6-8pm
Where: Community Forklift
4671 Tanglewood Drive, Edmonston Maryland 20781
Who: YOU! And your friends, family, kids, neighbors, coworkers, and (friendly, leashed) pets.
How Much: Free to attend—But you can support your local artists and businesses by purchasing their wares and tipping the band.
Shop In-Store or Online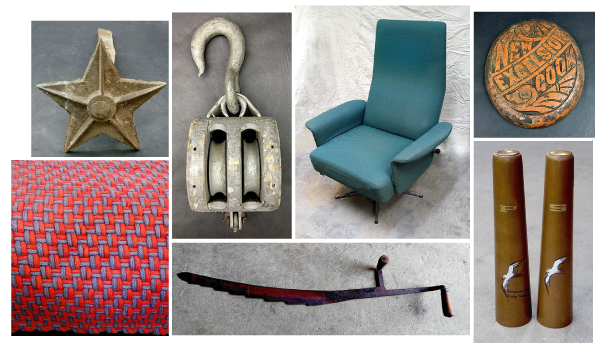 Left to right: Architectural 5″ iron star (pair)(ebay), antique pulley block, wood and iron (Community Forklift Marketplace), vintage Danish Stokke Fabrikker, Arnt Lande designed 'Mini Star' adjustable twill recliner (headrest cushion included but not pictured)(Chairish), cast-iron trivet made from antique iron stove part (7″)(Community Forklift Marketplace), vintage 5′ x 8′ cotton rope rug (in-store), antique forged hay-bale saw with wooden handles (in-store), vintage wooden souvenir Chesapeake Bay Bridge Tunnel salt and pepper shakers (in-store).
*The cool stuff goes quickly – items pictured may no longer be available.
DONATE A VEHICLE

Donate your car, truck, SUV, boat, motorcycle, UFO, or magic bus to benefit Community Forklift.
June Sale – 2 Weeks Left!

Tons of Tile
Throughout the month of June, take 25% off the marked prices on wall and floor tile, including ceramic, porcelain, stone, terracotta, vinyl, and glass tile.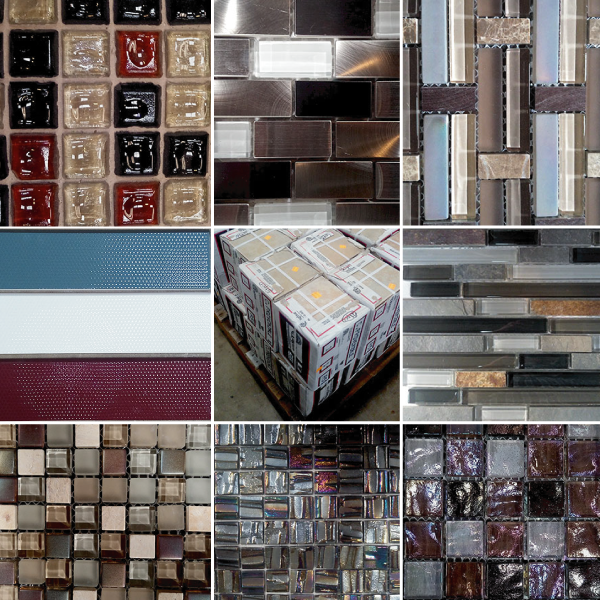 The June sale only applies to bundles and boxes of tile, not loose pieces. Items with missing or damaged price tags will not be sold.
Calling all Crafters,
Upcyclers & Collectors

Join the "RISE Business Marketplace" at Community Forklift!

Community Forklift's Reuse Incubator for Sustainable Environment (RISE) creates small business partnerships to attract, mentor and support small green and reuse businesses.

We currently have RENTAL SPACE available in our Reuse Center warehouse.




Charles at Decorative DeZign Interiors, RISE member
DONATE

We take donations of building materials, but did you know we also take…?

| | |
| --- | --- |
| ✓ | Fine art: paintings, prints and drawings |
| ✓ | Antique & vintage jewelry & watches |
| ✓ | Area rugs and carpets |
| ✓ | Sterling silver serving & table settings |
| ✓ | Vintage furniture |
July 5, August 2,
and September 6
6 – 8 pm
SOUND SCENE 2019: Amplify

June 29-30, 2019 | 10am – 5pm

Presented by
DC Listening Lounge Audio Collective
Smithsonian Hirshhorn Museum and Sculpture Garden
COMMUNITY FORKLIFT
301-985-5180 |
www.CommunityForklift.org
4671 Tanglewood Drive, Edmonston, MD 20781
(5 minutes from DC, near Hyattsville)
Open 7 days a week, from 9am – 7pm
FOLLOW THE FORKLIFT
{{UnsubscribeLink}}