Lifting up communities through reuse
DONATE A VEHICLE
Community Forklift takes donations of building materials, but did you know we now take vehicle donations? Not just that old beater in the back yard, but ANY type of vehicle!*
| | |
| --- | --- |
| Old or new, we take 'em | WE TAKE ANY TYPE OF VEHICLE |
Donate your:

| | |
| --- | --- |
| • | Commuter-Type Vehicle: Car, Truck, SUV, Minivan, or Motorcycle |
| • | Recreational Vehicle: Motorhome or Camper |
| • | Watercraft: Motorboat, Sailboat, Fishing Boat, Houseboat, Jet Ski, or Pontoon Boat |
| • | Specialty Vehicle: Snowmobile, ATV, Riding-Lawn Mower, Motorized Wheelchair, Golf Cart, Forklift, or Tractor |
| • | Company Fleet Vehicle: Bus, Van, Box Truck, Learjet, or Ambulance |
| • | Uber-Special Vehicle: Spaceshuttle, Dirigible, UFO, or Submarine! |

Doug coaxing Leaky into
another day's work.
Donating your vehicle to Community Forklift is a green choice that supports our daily reuse operation and turns that old beater into a reusable resource!
* Vehicles needn't be running, but we can only accept vehicles that are worth more than the cost of towing them.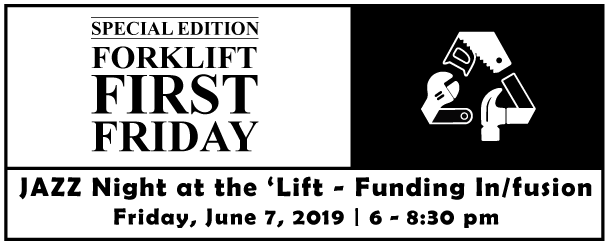 Sponsoring Jazz Night at the 'Lift is a great way to show members of our community that you support local events, and the work the 'Lift does to lift up its community. Visit our sponsorship page to learn more.
WE WON!

Best Green Business—2019

Community Forklift was voted Best Green Business for the 6th year in a row by Washington City Paper's readers.
Shop In-Store or Online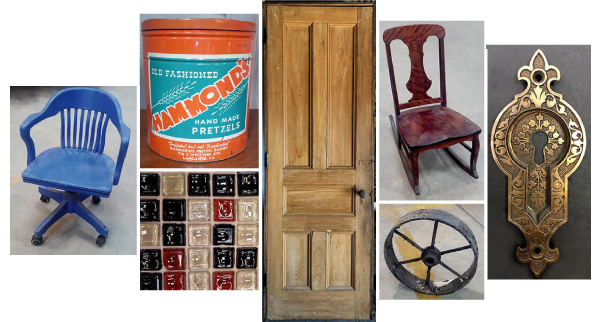 Left to right clockwise: vintage painted swivel office chairs (in-store), vintage Hammond's pretzel tin (in-store), antique chestnut tall interior door with hardware (ebay), antique rocker (in-store), late 19th century arts & crafts Norwich pocket door lock set – complete (Marketplace), antique iron spoked wheel (in-store), colorful glass mosaic tile (in-store)
*The cool stuff goes quickly – items pictured may no longer be available.
Calling all Crafters,
Upcyclers & Collectors

Join the "RISE Business Marketplace" at Community Forklift!

Community Forklift's Reuse Incubator for Sustainable Environment (RISE) creates small business partnerships to attract, mentor and support small green and reuse businesses.

We currently have RENTAL SPACE available in our Reuse Center warehouse.




Charles at Decorative DeZign Interiors, RISE member
May Sale — Time's Running Out!
MODERN &
VINTAGE DOORS

This sale DOES include doors with stained glass, pebbled glass, and other specialty glass!!!
More than 2,000 modern and vintage doors in stock—save on barn doors, antique wood panel, french, bifold, louvered, storm, and screen doors. Also included are oversized doors, iron security doors, and modern doors in frames.
*Sales do not include select specialty items, items from our consignment partners, or items listed online.
DONATE

We take donations of building materials, but did you know we also take…?

| | |
| --- | --- |
| ✓ | Fine art: paintings, prints and drawings |
| ✓ | Antique & vintage jewelry & watches |
| ✓ | Area rugs and carpets |
| ✓ | Sterling silver serving & table settings |
| ✓ | Vintage furniture |
June 7, July 5, August 2,
and September 6
6 – 8 pm
Emerson Food Forest Tour

June 3, 2019 | Tour: 5:30 – 6:30 pm
Weeding: 6:40 – 7:30 pm

Discover delicious native fruits and nuts you can plant in your yard or community. Tasting permitted!

Learn More
Christmas in April—Prince George's County

Susan Mona & John Denison
Memorial Golf Tournament

Monday, September 23, 2019
COMMUNITY FORKLIFT
301-985-5180 |
www.CommunityForklift.org
4671 Tanglewood Drive, Edmonston, MD 20781
(5 minutes from DC, near Hyattsville)
Open 7 days a week, from 9am – 7pm
FOLLOW THE FORKLIFT
Subscribe
{{UnsubscribeLink}}