Mid October, 2019 Newsletter
Lifting up communities through reuse
Community Forklift Online

Meet our online sales department

Hidden away in our warehouse—hunched over computers conducting more research than the average reference librarian—is Community Forklift's hardware-tinkering online sales team. Vintage and online sales manager, Melissa, has appraiser's certifications and can identify something valuable in a split second. Lying in wait is a warehouse full of dusty attic finds and vintage tools ready to be listed for sale on eBay, Chairish, and Community Forklift Marketplace.
Part of our mission as a reuse center is to find a home for all of the donations
we receive—from mid-century toilets in every shade of the rainbow to Stickley furniture. Included in that mission is respecting the materials used to make those items: the old-growth hardwood in furniture that is too scarce to source today; the human and mechanical energy that went into manufacturing a radiator 100 years ago in a factory that no longer exists.
We're left with these relics of the past waiting for their new life in your home, upcycled in your garden, or used as a prop in your school play. The possibilities are endless.
That doorknob for your 1920s-era home? A Sputnik Chandelier for your mid-century dining room? Find them and

more online in our

eBay store

,

Community Forklift Marketplace

, or

Chairish shop

. The best part is, you can feel good about giving an old piece a new home, creating good green jobs with every click of the mouse, and lifting up your community by shopping local. Our funky finds are waiting for their next life!
Working on your house over this long weekend? We've got some great deals for you!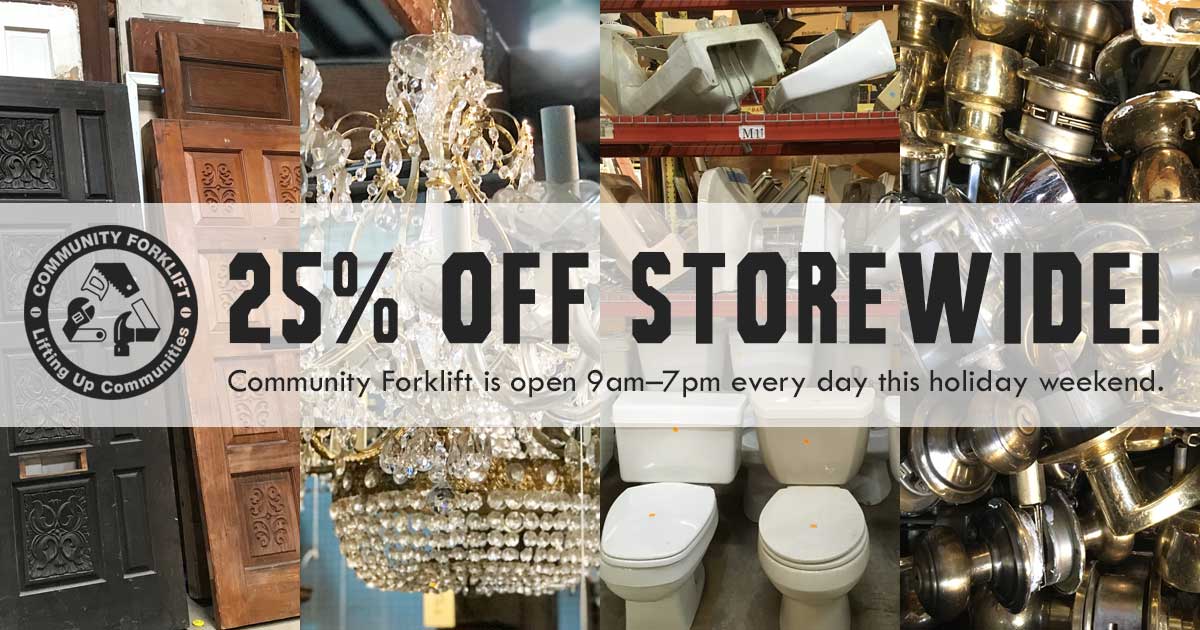 This Saturday, Sunday, AND Monday
October 12 – 14 | 9am – 7pm.

Save on modern & vintage furniture, architectural salvage, tile, appliances, kitchen cabinets, lighting, granite counters, tools, hardware, doors, windows, flooring, bathroom fixtures, items in our courtyard, and more!

Visit our website

for more details.
Did you know?
Community Forklift is part of a
national network of people who believe in the reuse economy.

Hundreds of us will be gathering at the annual
Deconstruction & Reuse Conference
organized by
Build Reuse
. If you work in reuse, remodeling, sustainability, historic preservation, appraisals, or local government, you don't want to miss this conference!
October 28-30, several of Forklift's Salvage Superheroes will be traveling to Pittsburgh. Hope to
meet you there!
It's not too late to register! Conference topics include.
How we can turn around after 150 years of going the wrong way
The role of architects in deconstruction and reuse
How deconstruction can build the skilled trades workforce
Funding and costs of deconstruction and reuse
Appraisal of reclaimed materials
Deconstruction, reuse, and social justice
Shop In-Store or Online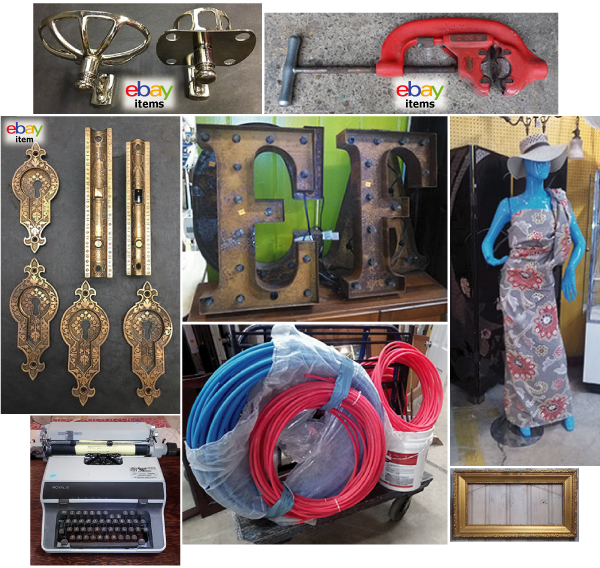 Clockwise from top left: Restoration Hardware soap dish and toothbrush holder, polished chrome (eBay); Rigid no. 44S four-cutter pipe cutter (up to 4″ pipe)(eBay); LOTS of upholstery fabric, and the mannequins are for sale too (in-store); gold picture frame – the 'Lift typically has a number of picture frames and art (in-store); PEX flexible plumbing tubing (in-store); vintage Royal manual business typewriter in working condition (needs tune-up)(in-store); beautiful antique nouveau Norwich pocket door mortise boxes and pulls (eBay); vintage "CAFE" large lit sign letters (in-store);.
*The cool stuff goes quickly – items pictured may no longer be available.
October Sales – Two Weeks Left!
DOORS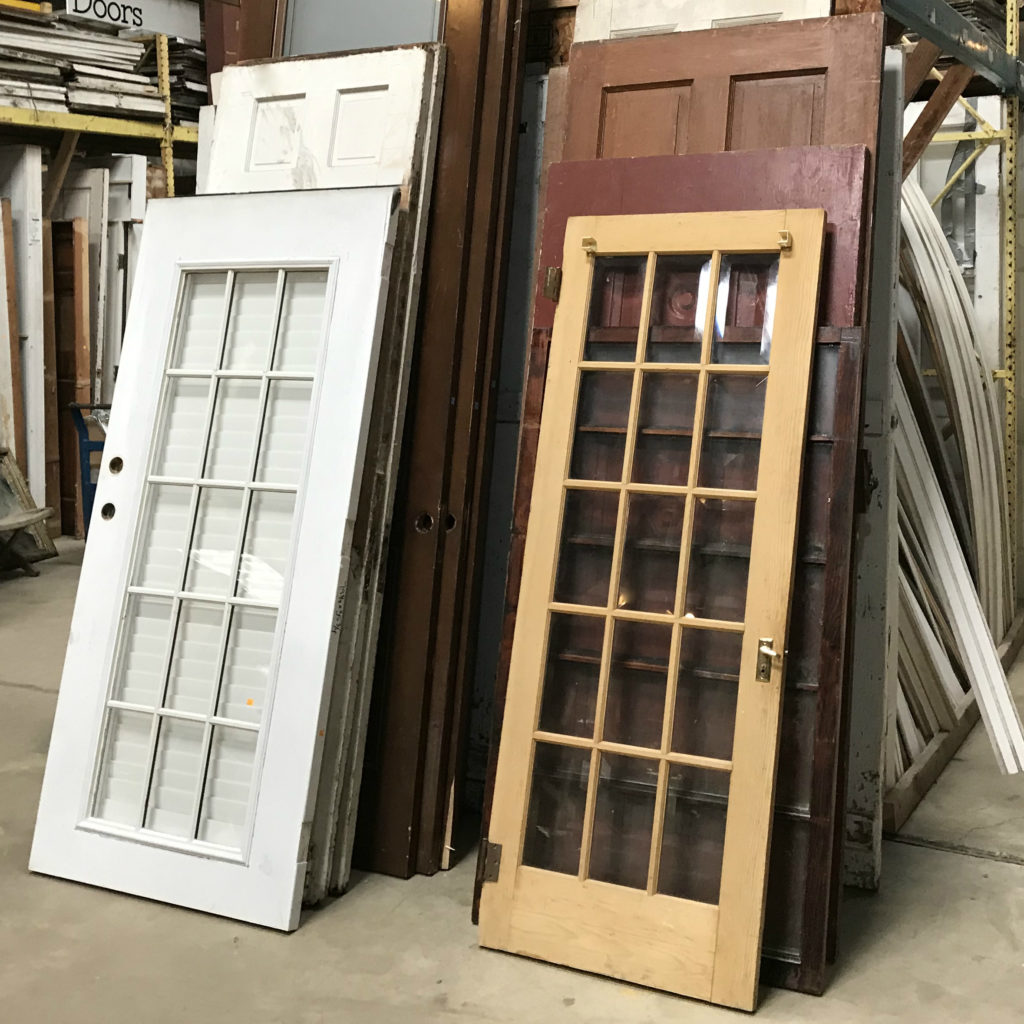 Take 25% off the marked price on doors.
Throughout the month of October, save on barn doors, antique wood panel doors, french doors, oversized doors, bifold doors, louvered doors, iron security doors, storm doors, screen doors, and modern doors in frames.
Visit our blog
for details & exclusions.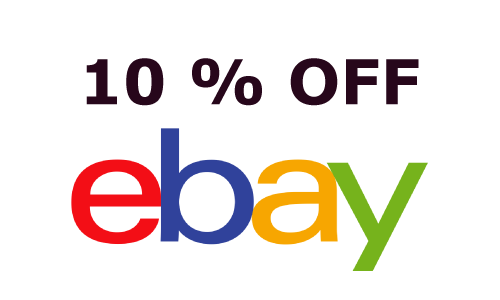 Through October, take 10% off items in our
award-winning eBay store.
Our eBay store has new and vintage hand and power tools, mid-century and decorative vintage tile, commercial and home appliances, new electrical and mechanical overstock items, replacement appliance parts, new and vintage hardware, vintage colored bath fixtures, and MUCH more!
Discount does not apply to shipping costs.
Donate

We take donations of building materials, but did you know we also take…?

✓ NEW! Portions of your eBay sales

✓ Fine art: paintings, prints and drawings
✓ Antique & vintage jewelry & watches
✓ Area rugs and carpets
✓ Sterling silver serving & table settings
✓ Vintage furniture
✓ Any type of vehicle!

Learn More

.




Any type of vehicle!
Koiner Farm
Pumpkin Show

Friday, November 1 – 3
Pumpkin lighting at dusk

Drop off carved pumpkins on Friday, November 1 to have them displayed at the farm. Pumpkins will be recycled Monday, November 4.
Meet us at these local events!
Stop by the Community Forklift tent at these events to make hardware windchimes!
BIG BUILD:

National Building Museum

Saturday, October 12, 2019
10 am – 5 pm

Free for all ages to build, discover, play, make, climb, and design.
Festival del Rio Anacostia

Saturday, October 12, 2019
11 am – 4 pm
Green Building Professional Seminar Series
sponsored by BuildGreenDC.org. The final seminar is October 30, 2019.
Learn More
COMMUNITY FORKLIFT
301-985-5180 |
www.CommunityForklift.org
4671 Tanglewood Drive, Edmonston, MD 20781
(5 minutes from DC, near Hyattsville)
Open 7 days a week, from 9am – 7pm
FOLLOW THE FORKLIFT