Mid-September, 2019 Newsletter
Lifting up communities through reuse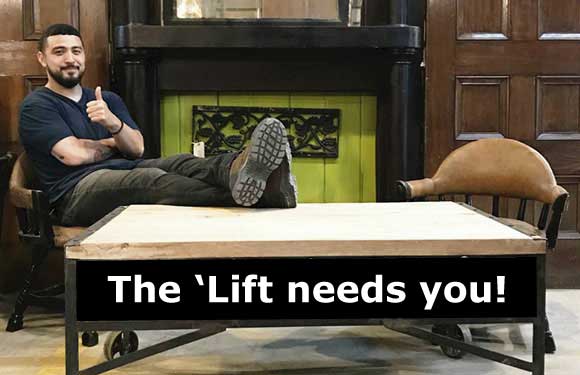 Danny Giron, Community Forklift Sales Manager

Please spread the word: Community Forklift seeks Salvage Superheroes to fill our great, green, local jobs.
Open positions:
• Director of Donations
• Director of Store Marketing & Communications
• Online Sales Associate
• Receiving & Processing Associate
• Community Builders (part-time outreach positions)
Community Forklift is a catalyst for sustainability and economic opportunity offering local jobs with competitive benefits and pay. Working at the 'Lift is a meaningful and unique career.
How your support helps lift the community
When you
donate materials
or
money
to our nonprofit, you're supporting our work to reduce waste and create jobs for people with barriers to employment. But did you know that you're also helping nonprofits all over the region? Through our
Community Building Blocks Program
(CBB), the Forklift provides free supplies to civic organizations, youth centers, and more.
Recently, we supplied tile and stained glass scraps to a community art project: six mosaic panels created by parents and middle school students at MHP's Amherst and Pembridge Apartments in Wheaton. After their debut at the Wheaton Arts Parade on September 22, the mosaics will be installed outside the apartment buildings. See more photos of these beautiful panels on our blog!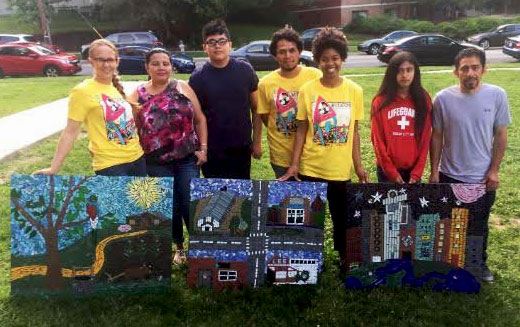 Shop In-Store or Online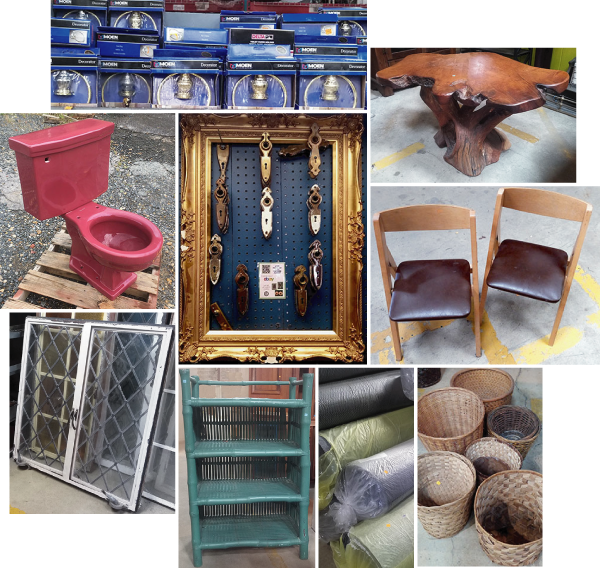 Clockwise from top left: New Moen and Delta round or rectangular towel rings (in-store and on Ebay); HEAVY tree stump and cross-section table (in-store); 2 children's bentwood back folding chairs (in-store); dozens of large garden planter baskets (in-store); bulk commercial carpet pad, both felt and cushioned foam (in-store); vintage heavy bamboo shelving unit (in-store); antique diamond pattern leaded glass casement windows (in-store) ;1957 Tang Red American Standard toilet, complete (Ebay); hundreds of door knob & key back plates, brass, chrome, painted steel (in-store and Ebay)
*The cool stuff goes quickly – items pictured may no longer be available.
September Sale – 2 weeks left!

AMAZON PAINT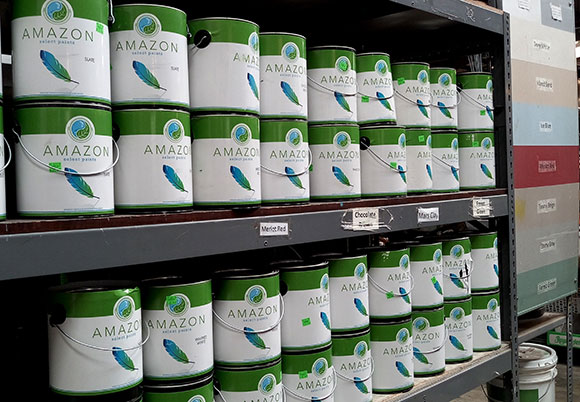 Amazon Select Paints come in 20 stylish, consistent colors and are premium quality, eco-friendly latex paints. They're manufactured from surplus paint that Amazon collects from government, business, and consumers, and recycles using patented technology.
DONATE

We take donations of building materials, but did you know we also take…?

✓ Fine art: paintings, prints and drawings
✓ Antique & vintage jewelry & watches
✓ Area rugs and carpets
✓ Sterling silver serving & table settings
✓ Vintage furniture
✓ Any type of vehicle!

Learn More

.




Any type of vehicle!
Forklift Events
The Last Forklift First Friday of 2019
SAVE THE DATE
October 4, 2019 | 6-8pm
We'll have great live music, craft beer & wine, local artisans, pottery demonstrations, a food truck dinner from Smoke Stack BBQ, and fun activities for kids. Plus we'll have a fabric pop-up shop during the party with all sorts of cool upholstery fabric!
Around Town
Meet us at these local events!



Community Forklift will be there!

Hyattsville Arts Festival:

Arts & Ales

Saturday, September 21, 2019
Noon – 6 pm
| | |
| --- | --- |
| See tile donated by Community Forklift | |



Community Forklift will be there!

BIG BUILD:

National Building Museum

Saturday, October 12, 2019
10 AM – 5 pm
Susan Mona & John Denison Memorial Golf Tournament
, to benefit Christmas in April—Prince George's County. Monday, September 23, 2019.
Learn More
Green Building Professional Seminar Series
sponsored by BuildGreenDC.org. Final two dates are September 25 and October 30, 2019.
Learn More
COMMUNITY FORKLIFT
301-985-5180 |
www.CommunityForklift.org
4671 Tanglewood Drive, Edmonston, MD 20781
(5 minutes from DC, near Hyattsville)
Open 7 days a week, from 9am – 7pm
FOLLOW THE FORKLIFT