Greater Goods October Raffle
THANK YOU!
Thank you to everyone who entered our October Raffle! Your donations will help us continue to provide free and low-cost salvaged materials to the community. The raffle is closed for entries, but you can still watch a recording of the live drawing of the winners! (We'll work on improving the sound for our next video!)
---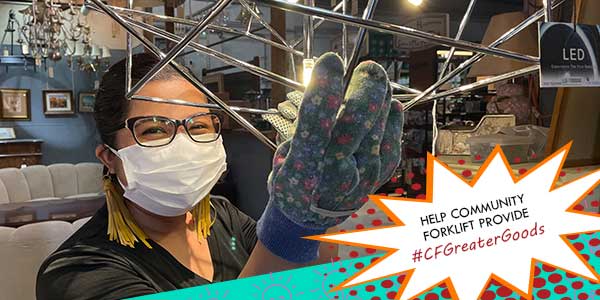 Greater Goods October Raffle
Donate for a chance to win some fabulous items! Help Community Forklift continue to provide Greater Goods to the community!
During the month of October, we'll be holding a raffle to support our Greater Goods campaign. As an essential business, we work hard to lift our community by making home repairs and home goods affordable, creating good green jobs, and reducing waste. Our Greater Goods campaign highlights both the people and materials who make our local community and environment GREATER.
Please consider supporting our Greater Goods campaign by purchasing a raffle ticket for a chance to win some fabulous items! Here's how it works:
Each raffle ticket is $5 ($5 = 1 entry, $10 = 2 entries, etc.).
Raffle winners will be chosen via Instagram/Facebook Live on Friday, October 29th at 12pm.
Winners will be notified by email/text and have until Friday, November 5th to claim/pick up their item in-store (items will not be shipped).
If you have any questions, please email Katy Kutzner (katy@communityforklift). And thank you for participating!
---
Raffle Items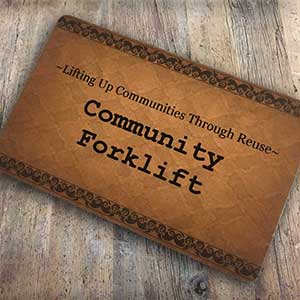 RAFFLE ITEM #1
$200 Community Forklift Gift Card
A $200 gift card to Community Forklift! What could be better? May be used for in-store purchases only.
Three of these prizes will be drawn! To spread the joy, we'll choose three different people to each win a single $200 gift card.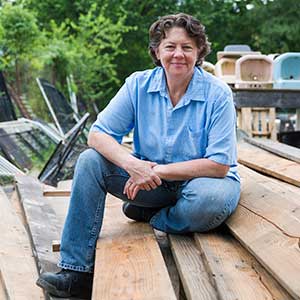 RAFFLE ITEM #2
Community Forklift warehouse tour with CEO Nancy J. Meyer
Have you ever wondered what really goes on behind the scenes at Forklift? Then you're in luck! Community Forklift CEO Nancy J. Meyer will take you and one guest on a 60-minute private tour of the 40,000 sq ft warehouse facility at one of the largest and most successful reuse centers in the country. A Forklift staff member will work with you and your guest to schedule a time for your tour.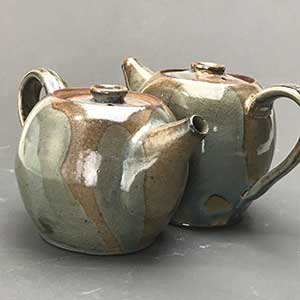 RAFFLE ITEM #3
Pair of nesting stoneware teapots
Made by the incredible potter/Forklift staff member/IT expert/lighting guru Andrew Francis, are a pair of 'subtly nesting' stoneware teapots so that two teas can be made at once and served in matching pots. Like people, they are each individuals with small differences. They hold more than 16oz each and include spout strainers to enable use of loose tea. They each have a flattened side so that they 'nest' nicely on a serving tray.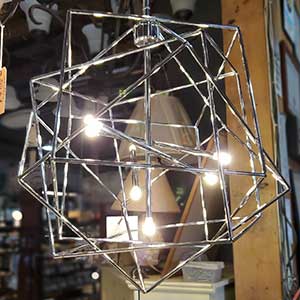 RAFFLE ITEM #4
Geometric chrome LED light
A brand-new LiteSource "Stacia" Geometric Chrome LED Pendant! This interesting geometric light will illuminate your home with exposed bulbs framed with sleek chrome squares.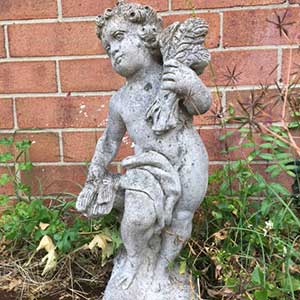 RAFFLE ITEM #5
Four seasons statue
This vintage precast concrete four seasons statue is a classic design. This little cherub would be an elegant addition your garden!
Statue measures 28" high.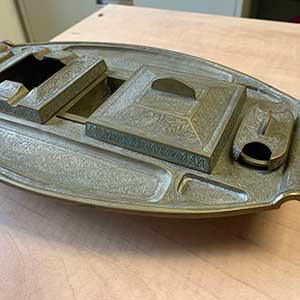 RAFFLE ITEM #6
Antique brass desk set
The perfect desk top décor! Antique brass inkwell tray with lovely engraved details, used as a desk or writing set. Measures 12" long and 7.5" wide.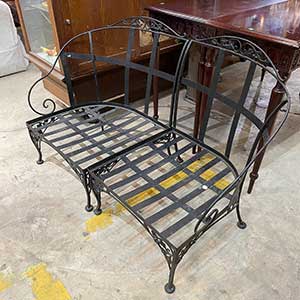 RAFFLE ITEM #7
Two-piece outdoor seating
It's finally patio weather! Use these pieces as separate chairs or slide them together for a loveseat sectional. Cozy!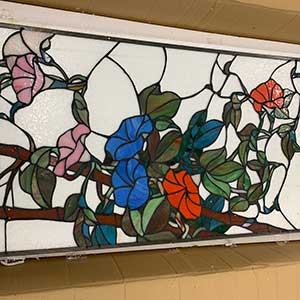 RAFFLE ITEM #8
Morning glories stained glass panel
Beautiful shades of blue, pink, and deep red morning glories come to life in this stained glass piece. Very good condition.
Dimensions: 40 3/16″ Tall, 20 7/8″ Wide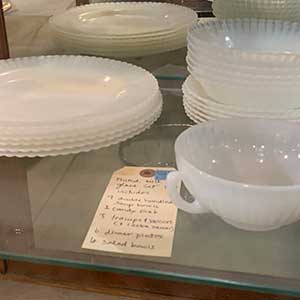 RAFFLE ITEM #9
Vintage fluted milk glass set
Beautiful set of iconic opaque white milk glass. In good condition. Set includes 4 double handled soup bowls, 1 candy dish, 3 teacups and saucers (+ 1 extra saucer), 6 dinner plates, 6 salad bowls.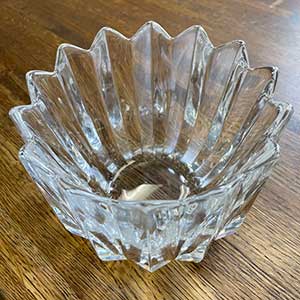 RAFFLE ITEM #10
Vintage Modernist Crystal "Fleur" Bowl
An elegant modernist crystal bowl designed by Jan Johansson for Orrefors of Sweden in the "Fleur" pattern (4514-12). This beautiful bowl is hallmarked with the green Orrefors label and stands 4.5 inches tall and is 6.5 inches in diameter.
---
Please note: Community Forklift employees and board members are not eligible to win items in the raffle. Thanks for your support!