About Us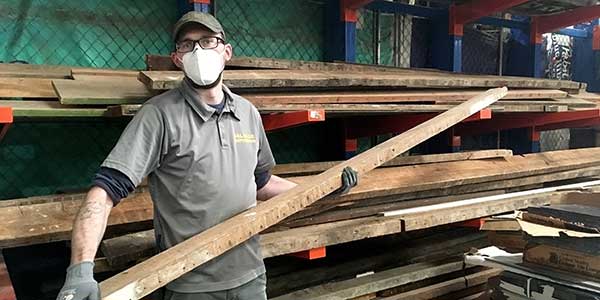 Community Forklift is a nonprofit reuse center for home improvement supplies. We collect donations of unwanted and salvaged building materials throughout the metro DC region. Then, we make the building materials available to the public at low cost, and provide vintage materials for restoring old homes. We also offer public education about reuse, and distribute free supplies to local nonprofits and neighbors in need.
Our Mission
Community Forklift lifts up local communities by making repairs affordable, reducing waste, promoting reuse, and creating green jobs.
By donating, shopping, or volunteering at Community Forklift, you help to:
Make repairs and renovation more affordable for everyone in the community—homeowners, small businesses, charitable groups, etc.
Reduce construction industry waste, keep reusable materials out of the landfill, and reduce the mining and harvesting of dwindling natural resources.
Provide public education about reuse and recycling options, green living, and environmental sustainability.
Build the local economy and develop career opportunities for nearby residents.
The Problem
Construction Waste is a BIG Problem!
Americans love to redesign their homes—we often change out materials like cabinets, appliances, and bathroom fixtures for the newest color, shape and technology. To keep up with demand, suppliers clear out leftovers and overstock, throwing away brand-new items. To make way for new construction, developers demolish old buildings, destroying old-growth lumber and antique fixtures.
As a result, building materials make up approximately 30% to 40% of our nation's solid waste stream!
Then, we buy brand new materials. To produce these new building supplies we must harvest, drill, mine, and transport natural resources across continents, causing serious environmental damage. Manufacturing the items and transporting them to stores uses even more fossil fuel, releasing carbon into the atmosphere.
The Solution
We're turning the waste stream into a resource stream!
Community Forklift is breaking this destructive cycle by finding new lives for old materials. Since 2005, we have:
Recovered an estimated $45 million of building materials in the DC metro region, keeping tons of materials from going to landfills or being burned in incinerators.
Supplied materials for 20,000 homeowners, small businesses, nonprofits, artisans, and historic restoration projects.
Provided over $500,000 in free materials to neighbors in need and local nonprofits since 2011.
Partnered with hundreds of community organizations, housing nonprofits, schools, gardens, theatres, Scouting projects, faith-based groups, and volunteers.
Helped to draw green businesses to the area, much like an anchor store draws shops to a mall. These businesses include appliance repair experts, an antique lighting restoration specialist, a woodworker who mills trees felled by storms, and crafters who upcycled furniture from scraps.
Community Forklift has created a lot of green jobs and economic activity.
Our operation has grown to 30 employees, and supports additional contractors and partners.
Local tradespeople get more work because inexpensive materials mean lower bids.
Building and supply companies benefit by donating, because they reduce disposal costs and earn tax deductions.
Landlords and small businesses can afford to fix up their properties, increasing property values and making neighborhoods cleaner and safer.
Local public works departments receive less trash, saving tax dollars and reducing greenhouse gas emissions.
Part of our inventory comes from deconstruction, in which a building is carefully taken apart by skilled laborers instead of demolished. Deconstruction employs more people than simple demolition – and the higher labor costs is offset by the tax-deduction benefits and lower dumping costs.
Building-material reuse is a solution that just makes sense.  Everyone benefits from less waste, a stronger economy, and a cleaner environment!
Download our factsheets to learn more about some of the types and amounts of materials we diverted in 2022 and how some of those materials were used.