Yard Signs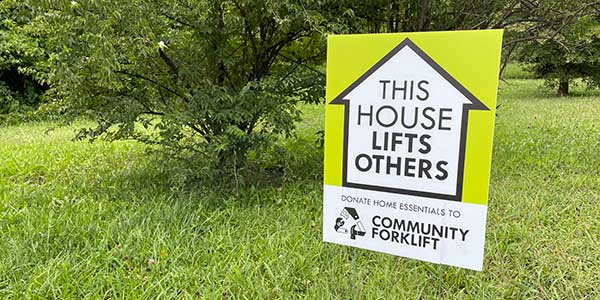 Now you can tell the world (or at least your neighbors) that your house lifts others!
Every time you donate materials to Community Forklift, you help lift up your community through reuse. We redistribute your items to those who need them at low-cost in our reuse warehouse or for free through our community giving programs!
When you request a free donation pickup of materials from your home or job site, let us know that you'd like to display a yard sign out front!
---
Help us reuse the signs
You can help us reuse the yard sign and pass it on to other Community Forklift fans:
• RETURN IT! Get a $10 Community Forklift coupon* when you return the yard sign and stake to our store within 6 months of your donation pickup.
• CALL US! Call or email and we'll pick up the sign from your house when we're in your area.
• STORE IT! We'll take the sign the next time you request a donation pickup at your home.
* Limit one per customer. For in-store purchases only. Coupon cannot be combined with any other offers. Not valid towards purchase of Amazon Paint, products from our consignment partners, select specialty items, or items with missing or damaged price tags.
---